Hello Folks,
This is the first of 5 plus size work wear outfits, as part of the Plus Size Workspiration Challenge, it's the brain child of Naomi. There will be a new outfit from me each week, but 10 girls are taking part so there'll be 2 new outfits each day and I will link to everyone who's taking part below so that you can visit them on the days they're posting.
Each week has a different theme and this weeks is how to work the blazer. As a general rule I don't wear a blazer, I work in an office where the dress code is smart casual which really means where what you like as long as it's not tracksuit/joggers, jeans, or trainers. I love our office dress code because it means that if i'm in a rush and i've forgotten to plan an outfit then I can just put on the first thing I find and it's likely to be acceptable.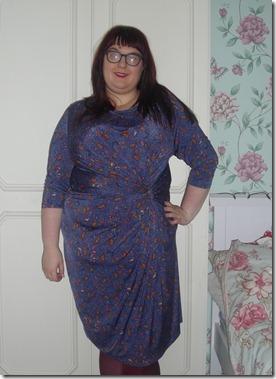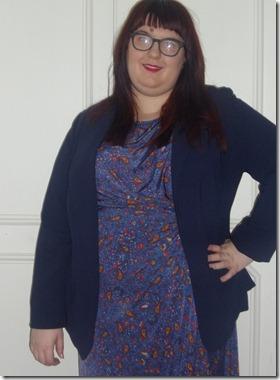 Dress – Simply Be but I bought it from Kaye for a bargain - £9
Blazer – New Look - £12
Tights – Primark – £3 (part of a pack of 3)
I'm not sure the navy works so well with this combo but if I had an oxblood blazer then it would go really well with tights, or maybe I should just get some navy tights. I do own two other blazers but one's black and the other cream so neither would have worked so well. I did have a different outfit planned but I couldn't resist wearing this dress when it arrived and so a new outfit was born.
Monday – Naomi www.diamondsnpearls.co.uk 
Tuesday – Hanna www.thewardrobechallenge.co.uk, Sara www.confusedbrit.wordpress.com
Wednesday – Gemma www.pinkgemmaplus.blogspot.co.uk, Amanda www.cruellamcg.wordpress.com
Thursday – Claire www.amonkeyfatshionista.co.uk, Laura www.whatlauralovesuk.com
Friday – Gina www.fatfitfine.blogspot.co.uk, Rosie www.aroselikethis.blogspot.co.uk
I hope you enjoy everybody else's looks this week!
Tink x