Hey guys,I had to do a post on 12-12-12 hahaSo today I decided to do a 'How to wear nude lipstick' post. I asked if you wanted to me do a post on it and alot of you said yes. It always takes a while to understand how to actually pull off nude lips if you ask me  because not every nude lipstick will suit you (been there).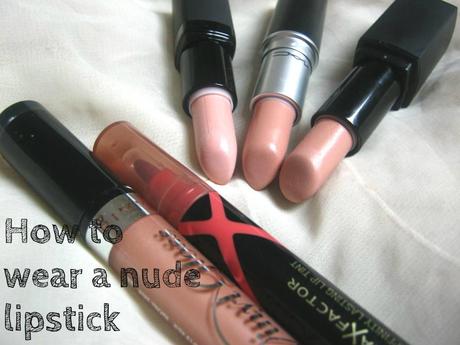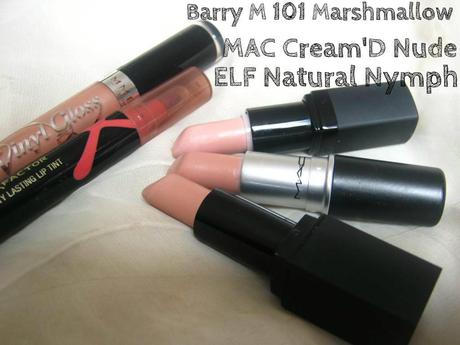 So I picked three of your basic nude lipsticks, Barry M 101 marshmallow, MAC cream 'd nude and ELF natural nymph.  I've experimented so much with nude lipsticks. They appear to be really white and ashy at  times but as always I make the product work somehow! When I ordered the ELF lipstick it was raved about so much and on the internet the swatches seemed to be a lovely pinkish nude color but when I used it, it was really pale and made me look like a ghost. Same thing with the Barry M one. The MAC cream D'nude is actually really nice and I wear that alone but I know for alot of people that particular shade doesn't work.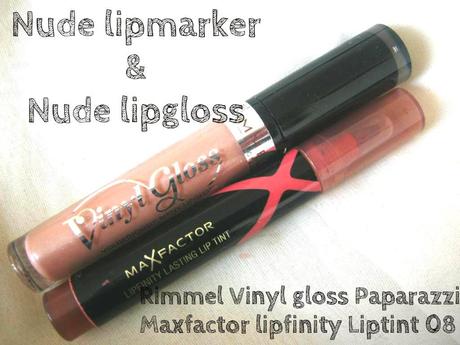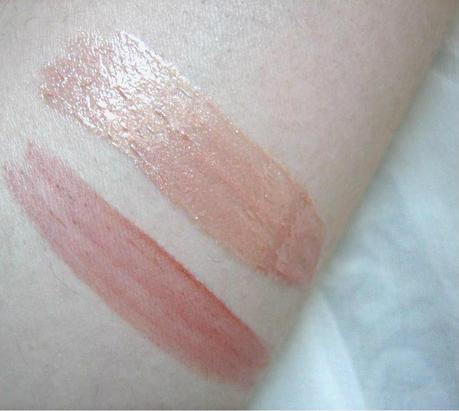 2 other products that you'll need is a nude/peach lipgloss such as the Rimmel vinyl gloss in 'paparazzi' and any lip marker in a brown or nude color such as the Maxfactor lipfinity liptint in 08.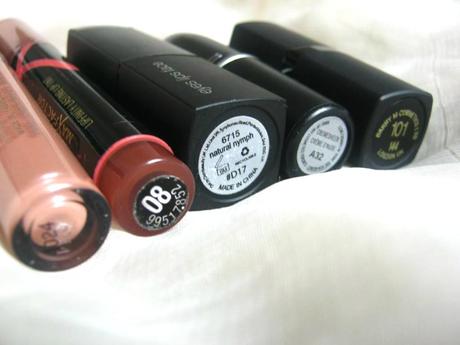 The first way you can wear a nude lip color is by using a lipmarker that is a little darker than your natural lipcolour underneath the actual pale lipstick. I use this Maxfactor one which isn't the best product when you use it on its own but it works well for this. After using a lip marker or liptint, apply your chosen nude lipstick on top and blend it evenly. I use this technique with the ELF lipcolour. This almost mutes the paleness a lipstick might have because you now have a darker color underneath. This is the way I wear alot of my nude lipsticks. You can also use a lipliner instead or a lipmarker for this which works equally as well. I love this technique because it doesn't change the color of the lipstick but makes it alot more wearable and subtle.
Another technique that you can try is by applying your nude lipstick (I usually use the BarryM one for this) and then using a nude or peach lipgloss on top. Because the lipgloss shade is deeper than the actual lipcolour this makes it appear less ashy and alot more neutral. You could always try using peach/pink lipcolour on top of the nude lipstick by patting it on literally. This will add a slight tinge of color to it.
I have another post coming up on nude lipsticks for your skintone! 
I hope you guys liked this post!Do let me know what you think!
Hareem x