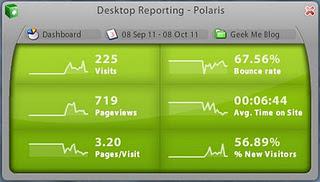 I like to use Google Analytics to track my web traffic, but I don't like having to log into their website every time  I want to view  my results for the day.
So I have been looking at different options, and the one that I like is Polaris. I like this widget for two reasons first it is small and easy to use, it doesn't use all my processing power, it just sits on my desktop and does its job nice and quietly in the background.
Te second reason I like it is, it's free. Now I dont mind paying for good software, but some that I have looked at are very expensive. Okay, they are designed for high end sites that have thousands of hits per day, but if like me you just want something nice and simple that does the job then Polaris it the right bit of kit.
To use this software you firs need to make sure that you have Adobe Air installed on your machine.
Download Adobe Air
Then you download and install the Polaris Software
Download Polaris
Once the software has been downloaded and installed all you need to do is enter your Google Analytics login  ID and password, then you will be greeted with all the websites that you have listed in your Google Analytics account.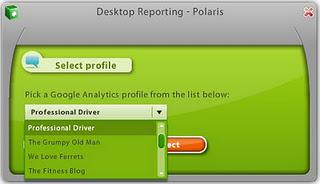 Select the account you wish to track and the click on select, And that's it you are now tracking your Google Analytics on your desktop.


Please subscribe to this blog for regular updates.




If you have any comments to make or would like help with anything on this post please visit our 

Forum

 and I will try my best to help