I like Google Chrome, it's my browser of choice and I have used it almost since it first came out. I like Google Chrome because it's sleek and fast, it works well on both Windows and Linux, plus it also has a portable version.
Google Chrome is rapidly becoming the standard browser for more and more people, and it's quickly becoming the standard that other browsers are measured against in terms of usability and speed.
Today I am going to look at just a few tricks to make your browsing life that little bit better. 
Read on for my favorite Google Chrome Tricks:


Configure Multiple Home Pages


When I launch Google Chrome it opens three pages for me instead of just the one. This is handy in that I don't need to mess around opening my Web Statistics Page plus my Adsense page and Facebook, okay I know that the last page is sad, but Facebook helps me promote my blog :)


Shrink Tabs Into Favicons


One of the problems I have is trying to open too many pages and my browser soon gets cluttered with tabs. With Google Chrome it's easy to make the tabs into manageable favicons. All you need to do is right-click and select Pin Tab.





Audit Your Tabs


If you suspect that one of your tabs is eating up all the resources, you can soon find out which one it is causing the problem. Just hit Shift+Esc to open up Chromes built in Task Manager to see how much memory each tab is using.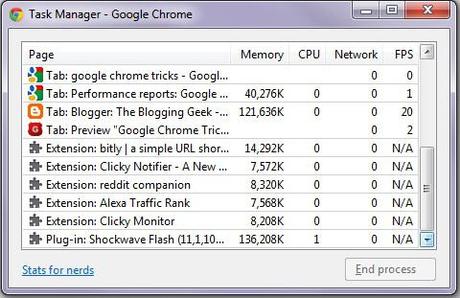 Carry Out Calculations In The Omnibox


Rather than loading up your computers calculator just type a basic maths problem into the omnibox and the result will show up where you would normally see auto-suggestions. It will also work for unit conversions like miles to kilometres and pints into litres etc.





Edit Any Site's Code Legally


If you right click on any part of a page you want to alter and select Inspect element you can change the website, but only on your browser, it doesn't change the webpage for other users, and as soon as you navigate away all changes are lost.
These are just five of the tweaks that make Google Chrome my favorite browser.


Please subscribe to this blog for regular updates.




If you have any comments to make or would like help with anything on this post please visit our 

Forum

 and I will try my best to help