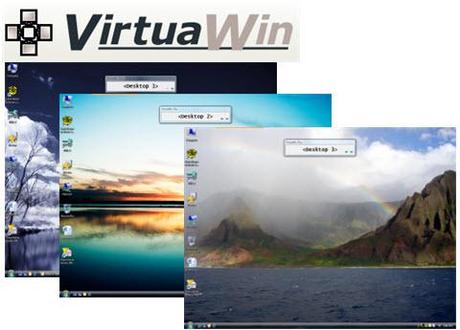 One of the great things about using Linux is the ability to have virtual desktops, a great aid when working with multiple spreadsheets and documents. 
VirtuaWin is a virtual desktop manager for Windows, it works in Windows XP/Vista and Win7. 
With VirtuaWin can have up to 9 virtual desktops running at the same time, you can easily switch between virtual desktops in Windows just like you can in Linux.
Virtual desktops are very common in Linux, and once you get used to using them they become an essential part of a productive workflow. If you couple this with using two monitors on your PC you will find that your production will increase. (Follow this link to find how to use two monitors on your PC/Laptop)
Installation of VirtuaWin is very easy, there is and option to choose between installing for current user or all users. The program is unobtrusive with just a small green icon in the notification area.

This gives you access to all of the program options. Right clicking on the icon brings up the menu to setup the window and other functions. Once you have spent a little time setting everything up you will find that this software will bring some order to cluttered desktops.
Authors Website: http://virtuawin.sourceforge.net/
To download the software FOLLOW THIS LINK.


Please subscribe to this blog for regular updates.




If you have any comments to make or would like help with anything on this post please visit our 

Forum

 and I will try my best to help