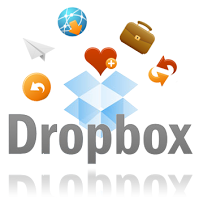 I like to use Dropbox to store some of my files not only for my workplace but also for use on Blogger. It can be handy to store things like PDF, video, audio and lots of other stuff that blogger can't cope with.
The beauty of Dropbox is, it's so easy to use, you can access your files from any computer that is connected to the internet, plus you can also use you iPhone, iPad or other internet enabled smartphone or tablet in the same way.
The first thing you need to do is get yourself a FREE Dropbox account.
If you watch this introductory video and then download Dropbox to your desktop.

Once you have downloaded and installed the application you will find a small icon on your taskbar. When you click on this icon you will be able to open a folder on your desktop. Store your stuff in it, but make sure that any files that you want to use for Blogger go in the folder named "Public". You can make new folders for the rest of your stuff and these folders will be private.
The easiest way to explain the rest is with the power of Youtube, so if you watch this short video it will show you how to do the rest.
&playerapiid;


If you have any comments to make or would like help with anything on this post please visit our 

Forum

 and I will try my best to help