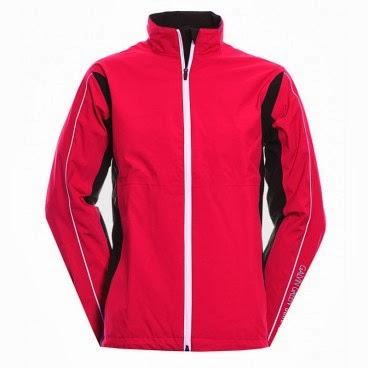 A seemingly beautiful golf event turns from sunshine to soaking rain in a matter of minutes...but, is your round ruined? 
Most players do not have the luxury of rescheduling eighteen holes to another day, so you carry on, pulling out of your bag your waterproof gloves and one of your stylish waterproof golf jackets from Galvin Green.
Can playing in the rain also be a fun experience? Of course it can, with a few golf tips under your belt! 
Here are a few tips from some of the best known "mudders" and instructors:
1. Five-time Briitish Open winner Tom Watson knows about playing in adverse conditions. His top weatherproof swing tip? Aside from always carrying a lightweight rainsuit, Watson says, "from a wet turn, swing your irons on a shallower (flatter) plane so you pick the ball off the grass without taking a divot. If you hit even slightly behind the ball, the club will dig too much into the wet ground. When the conditions are wet, a thin shot is better than a fat shot. Plus, a thin shot will probably still stop on the green if it's wet."
2. Don't overswing like Phil Mickelson says Doug Wade, head golf professional at Miami Valley Golf Club. Thinking back to a classic pull from Mickelson at Quail Hollow which resulted in a loss, Wade says to stay in control, shorten your golf swing and swing easy.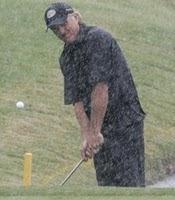 3. The Shark, aka Greg Norman, says to "keep yourself and your equipment as dry as possible." 
"If there's one part of your body to keep dry it's your hands. Once you lose your grip, you lose everything, so keep your hands in your pockets except to play. Also, be sure to keep the top of your golf bag covered so that rain doesn't drip down the shafts and get your grips wet."
I will add to this tip that you should make sure you keep a hat in your golf bag and, as Tiger Woods sometimes does, turn the flap upward to allow water to pour away from your face.
4. Golf Channel Swing Instruction says you will need more carry from the tee. I would add that you should consider taking an extra golf club during most of your distance shots as the ball will not travel as far nor will it roll on soft, wet ground.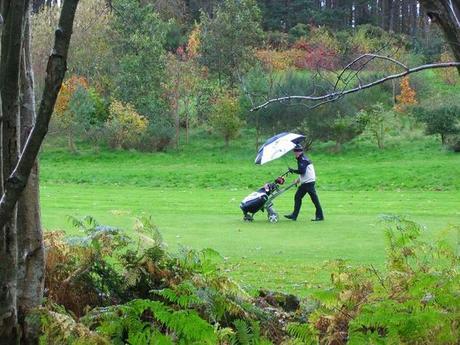 Be sure to check out the range of Nike golf clothing from Function18 before hitting the links!
Voice your opinion on this golf blog, on Twitter @Golf4Beginners and LIKE on Facebook.


photo credits: function18.com, windsorgolf.co.th, shark.com






Disclosure: This is a "sponsored post." The company who sponsored it compensated me via a cash payment, gift, or something else of value to write it. Regardless, I only recommend products or services I use personally and believe will be good for my readers. I am disclosing this in accordance with the Federal Trade Commission's 16 CFR, Part 255: "Guides Concerning the Use of Endorsements and Testimonials in Advertising.