The significance of online business is its nature to be able to function as the tiniest business model propelled by a single PC to the largest business model driven by gigantic technology infrastructure.  It is as practical as that, an ordinary individual who can invest $100 (INR 5000) of his pocket money can even create an online earning revenue model.
(A)  Types of online business:
Online business is prominently dominated by product sale.  Consumer electronics, household provisions, ready made garments, drug store and the list is unending and is limited to our imagination.  The other business type is service sale.  The most popular among them are job portals, matrimonial sites, service exchanges and even research services.
(B)  Online business idea: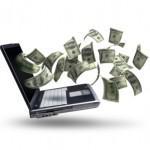 Choose a single product which has large scope in the market and which can be sourced by you at required parameters.  You can go for marketing of all cereals like Green Gram, Black Gram and so.  You can choose art items if you are an artist.  You can go for designer garments if you are a designer.  You can sell photo frames if you are an artisan.  Or you can market handyman services.
Every business opportunity is portable as online business model, provided you know the target market scope.
(C)  Approach:
Idea consolidation:  Finalize the product choice after proper market research.  Make a quality business plan to understand the investment and ROI.
Technology: The major points of consideration could be:
High level requirements of portal
Operating System & Database
Hosting platform
Design considerations for Front-end feel and look
Analytics and Reporting structure
Payment Gateway options
Support
Security measures; and
Development and deployment time.
(D)  Process development and deployment:
What constitutes this?
Finalization of terms with vendors, affiliates for product supply or service deliver.
Statutory and mandatory rules & regulations related to sale and purchase of products contextual to target markets.
Procurement and supply logistics.
Transaction cycle like Ordering, invoicing and delivery.
Operational structure.
Performance monitoring and controlling procedures; and
Customer Data & Privacy Protection Controls.
(E)  Marketing and promotion of portal: 
Search Engine Optimization (SEO) and Social Media tools are the cheapest measures to market any online businesses.  You should engage a professional organization or designate an internal two member team who will promote your portal on continuing basis.  You could check this link on ways and means of online promotion.
(F)  Consistent improvement through market intelligence: 
The success of online presence majorly depends on the factors like (i) Ability to introduce trendy and quality things (ii) Accountability on extended services (iii) Tech intelligence to identify the constraints faced by users during their engagement with your portal.
(G)  Common mistakes:
Several online business portals go bankrupt or wound-up in the early stages owing to poor planning, unfounded projections or technological challenges.  The mistakes to be avoided among other things would be (i) Keeping the site static in terms of design, look and user experience components (ii) Faulty design or insufficient features causing navigational confusion and frustration (iii) Poor performance like slow loading of site (iv) Inadequate or slow support (v) Limited payment options; and of-course (vi) non-competitive in price, product, offers or variety.
(H)  Success metrics:
When you ensure rectification of failure points as indicated above you would obviously find success in your way.  Still the major points or metrics of online business portal success would be (i) Efficient technology (ii) Presentation of clutter free and just in time and contextually required feature(s) (iii) Price and product attraction; and (iv) Real-time support.
Online business portals offer the advantage of business numbers which means a huge market, though with small margins.  From backyard products, house made items to far off place products every item could be traded online.  The secret is creating a brand of your own and maintaining it on consistent basis.  A small mistake or ignorance could distract the long-time customer.  You may tread slow initially but once the portal becomes attractive you would transact just dollars not the merchandise.
http://blog.epmworld.in