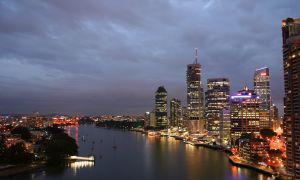 Live bands, star-lit cinema and 24 hour party culture: just some of the things that make Brisbane an incredible place to be at night. Despite the fact that it's a hard place to leave, getting there is now easier than ever. Check out cheap flights to Brisbane, and leave yourself more money to spend on the things that matter: enjoying yourself when you get there.
The following is a run down of the best evening entertainment the city has to offer. Perfect after a day of diving or beach bound fun.  (Photo "Brisbane River" by ligfx)
Chill: Queen Street in downtown Brisbane is a great place to sit and watch the world (and its beautiful people) go by. Get yourself a beer and some quality food, take a stroll to watch the buskers and acrobats who line the street. Dancing and jazz shows are often held on an outdoor stage.
Gamble: Brisbane's own 24 hour casino can be found within an impressively grand building which used to be the treasury. Have a flutter and watch small fortunes being won and lost. This is also a hotel if you fancy a full night of extravagance.
Party: Fortitude Valley is the place to find a good party, and includes everything from the swanky and sophisticated to the quirky and grimy. Bars, restaurants clubs and pubs are plentiful in this area, and there is something for everyone, whatever your taste.
Educate: The South Bank Cultural Centre is the place to indulge yourself in the arts. Here you will find exhibitions, theater and dance by national and international artists.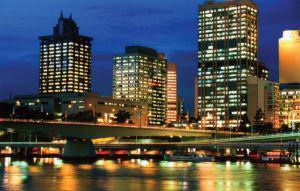 Drink: Australia is famous for its beer brewing, and every city has its own collection of micro breweries. Brisbane is no exception, and a visit is not complete without sampling the local ales. The Brew House in the city center is a great place to start. Bitter, stout, lager and ale are all on offer and are best enjoyed after a brewery tour.   (Photo "Brisbane City" by zotega)
Dance: The city's nightlife is nationally renowned, and there are plenty of top class clubs for a bit of dancing. Try The Living Room for live DJs and guest performers, where the music ranges from cutting edge hip-hop to jazz.
Listen: Brisbane has produced some of Australia's most famous bands including Savage Garden and Powder Finger. The gig culture is alive and kicking, with loads of great music venues. For big national bands take yourself off to Waterloo Hotel or Arena, both in Fortitude Valley.
Watch: Moonlight outdoor cinema is the perfect place for a relaxed evening, whether you're after a romantic setting or a place to hang out with friends. Cult classics and new releases are shown. Rent a bean-bed and take a picnic to enjoy a memorable evening under the stars.
Eat: Try some traditional Australian food with a twist. Restaurants like Tukka put a contemporary spin on traditional Aboriginal "bushtucker". Sample native fruits, seeds and meats such as kangaroo and crocodile (if you dare!)