OK, say you have an idea for a "knight joke," and you draw up a bunch of knights in somewhat scruffy armor.
You make your joke, but then you keep having ideas for more knight jokes. What do
you do? Recycle your tin cans, of course!
For example, here's a pun on "Tonight, tonight, won't be just any night," a lyric from Tonight, one of the best-known songs from West Side Story: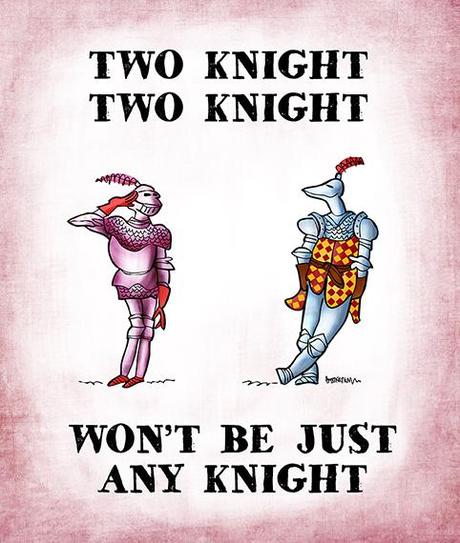 If those two knights look familiar, it may be because you saw them in my last post,
which featured my original knight joke: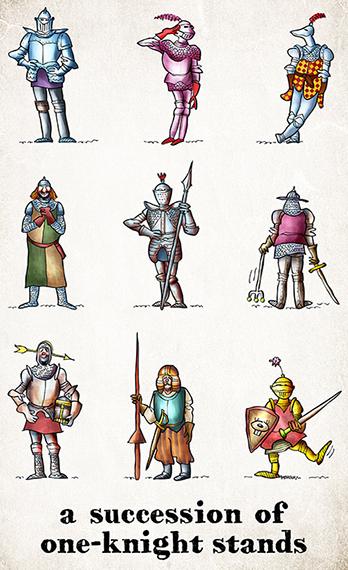 So if you're an illustrator, what's the best way to recycle your tin cans?
It helps a lot if you create all your knights as separate Photoshop documents. For example, here's our first knight and a portion of the corresponding Layers Window. I'd like to copy the entire knight, but leave out the ground shadow and the white background.
But how can I do that when the knight's composite color is spread out across multiple layers?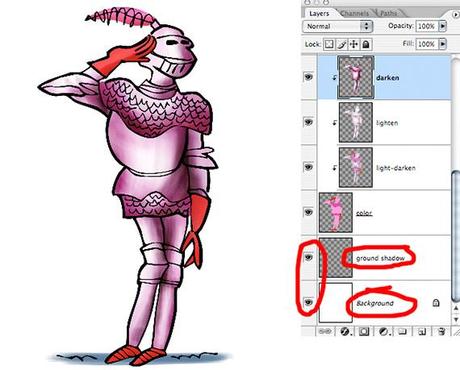 Answer: use one of Photoshop's lesser known features: the extremely powerful Copy Merged.
How does it work? You begin by turning off the visibility of the layers you don't want to include. Then you use the Rectangular Selection Tool to select the portion of the image you want to copy. Then you choose Edit>Copy Merged. Photoshop then copies your selection across all visible layers– everything it can "see" within the selection. It's that easy.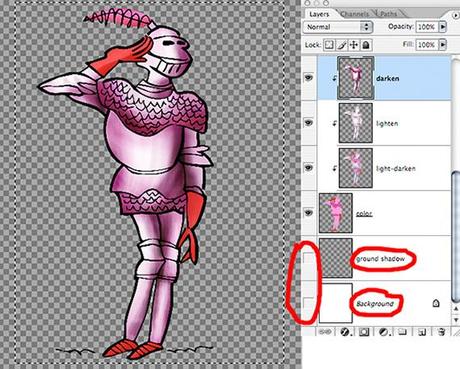 Next, I created a new document with a white background and chose Edit>Paste to
add my Copy Merged image on its own layer. Because the knight occupies an otherwise transparent layer, I can add a texture or anything else I want behind it.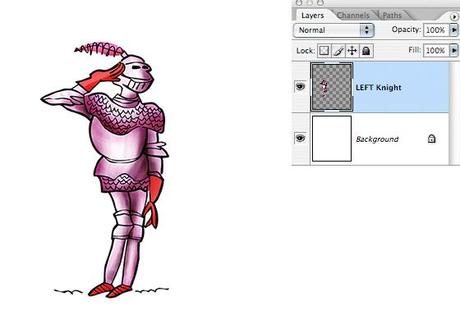 I repeated the above steps with my second knight: open the original Knight #2 document, do a Copy Merged, paste Knight #2 into the new composite document, which places him on his own otherwise transparent layer.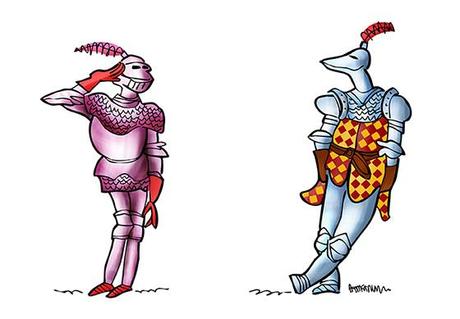 Next, I expanded my Canvas Size, and added my text, all on separate Text Layers.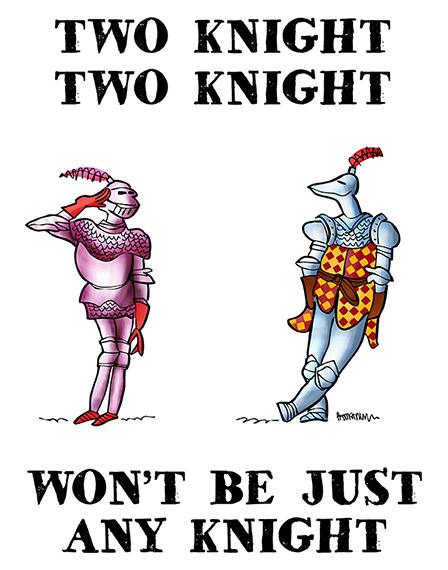 I had a grungy pinkish texture I thought would work well as background. I copied and pasted it in behind all the other layers.
Then I added a Layer Mask, chose color = Black, and used a soft brush at reduced flow and opacity to mask out the texture in the central portion of the image.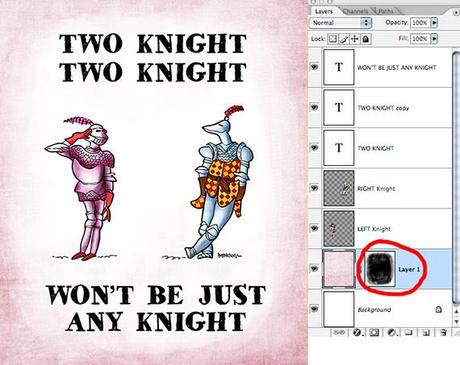 I thought the remaining texture looked a little too faint, so I duplicated the texture layer, and set the layer mode to Multiply. I adjusted the Opacity setting until I liked the result.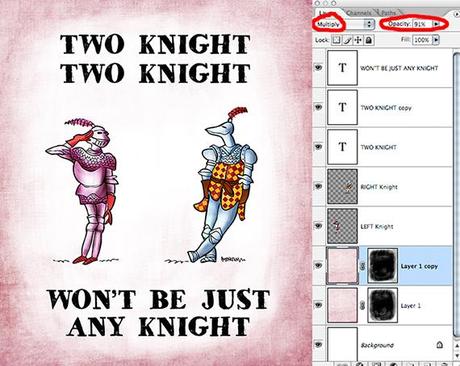 Can two tin cans find love and happiness at the recycling center? We can but hope. Here's the final again. If you like "knight humor," you can find additional shining examples at my online store.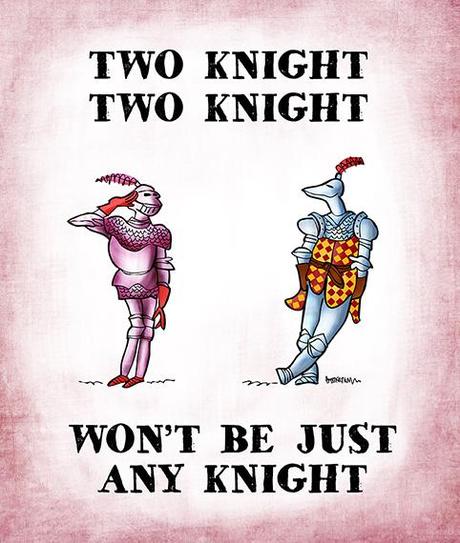 *  *  *  *  *  *  *  *  *  *  *  *  *  *  *  *

Do you think my idea might lead to a revival of West Side Story? How about Camelot??
Is it really possibly to flirt in a suit of armor? Can you speak from experience??
Hope you'll leave a comment.

If you enjoyed this post, please click the Like button below.
If you'd like to share this post with others, please click Tweet or Facebook or StumbleUpon or one of the other Share buttons.