Im sure you have heard of Ubuntu the free operating system. Well now its being developed for mobile phones, and a developer beta version is available to play with.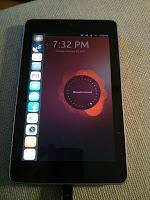 Its not the simplest thing to flash on your tablet but for people with decent experience in the field its not that bad. I have written this whilst doing it at the same time. Just in case I come across anything unexpected. Oh and maybe read through first to make sure you've read everything!I have returned my nexus to its original stock rom and let it update to 4.2.2. The bootloader needs to be unlocked as well.
First we need to flash a new recovery. Its a modified version of TWRP you can download all relevant files from here (or directly TWRP). The forum contains the instructions to do this but I'm going to write it in my own words. Also download modified stock kernel and MultiRom and place on internal memory.  
There's 2 more files that need to go on your SD card sd well. This is the unbuntu stuff, you need this file and from this page you need to pick quantal-preinstalled-phablet-armhf.zip (the biggest one, 481 MB)
Now to begin the work.....
Put the TWRP img in the folder with your adb. Put the nexus into fastboot (hold down power and volume up and down) Then using adb with your phone plugged in type:
fastboot boot (name of recovery).imgIt will automatically reboot to the new recovery. I use this occasion to backup my rom, just in case of an accident. I would reboot back to android and and take the file containing the backup and store on your pc. I found I had to use the fastboot boot (name of recovery).img to get back to TWRP. In TWRP, install the modified kernel and then MultiRom zip. Right... now in recovery Advanced->MultiROM. Select "Add ROM" option. Choose these settings:Choose ROM type: Android/Ubuntu touch
Share kernel with Internal ROM:
 Don't share
Click 
Next
, then select 
ZIP file
 as ROM source, and choose the smaller ZIP file with base system (
mrom_quantal-preinstalled-armel+grouper_20130221.zip
). Proceed with installation. 
Do not reboot after installation!
Select 
List ROMs
 in MultiROM menu in recovery, then select the ROM you've just created (probably named something like 
mrom_quantal_preinstalled...
) and choose 
Flash ZIP
 option. Select the bigger ZIP file (
quantal-preinstalled-phablet-armhf.zip
) and flash it. Beware, this ZIP file then can't be used to flash Ubuntu without MultiROM, as it is modified in the process to suit MultiROM needs.
Then just reboot and enjoy. On every reboot you will be given the choice to boot either android (internal) or ubuntu.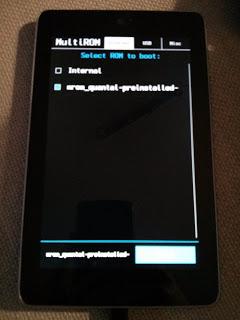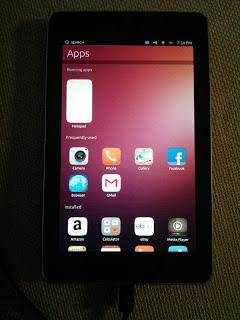 Ubuntu on Nexus 7
Any questions please ask
Enjoy
p.s
The two sites I used as reference are
http://forum.xda-developers.com/showthread.php?t=2011403
http://forum.xda-developers.com/showpost.php?p=38300214&postcount=104