My favorite Summer Holiday Apps 2014
Along with my wallet I take my phone everywhere with me. Its probably by my side more than any other object. The smartphone is ever increasing in usefulness and for me specifically when I'm traveling. So I have put together a small list of apps for your smartphone that I think I'll use and find useful while I'm on my holidays. Please read on to find out!
Countdown to take off
Every good holiday requires a count down until it's arrival and for that special job I like to use Countdown widget. Its a pretty simple app but has some nice themes and multi size widgets. I worked my way through quite a few countdown apps before I chose this one. I found them all to be quite dated, they might have had slightly more features but they felt like they were built in the early gingerbread days.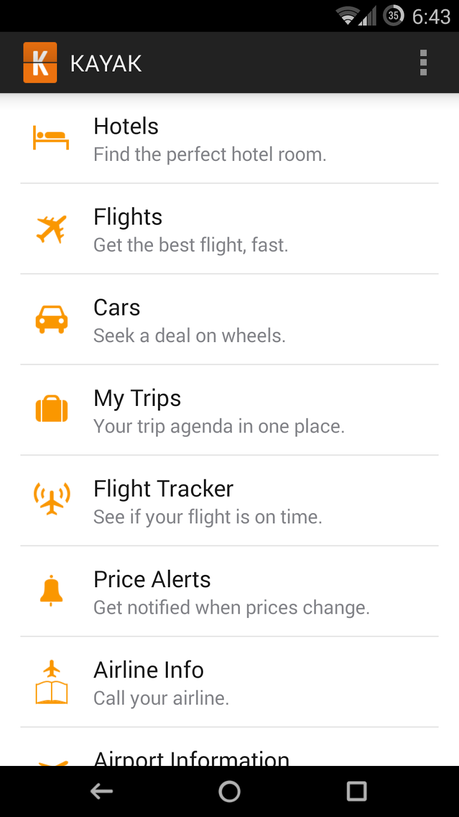 Flight Checking
My next app is a jack of all trades, it's called KAYAK. It has tons of useful features designed for traveling. There's flight and car booking which searches for the best prices, flight tracking which I become obsessed with in the run up to travelling to the airport. It has an currency converter and the ability to find details of your Airline incase of emergency. There's even a handy packing check list for the list lovers out there.
Weather Apps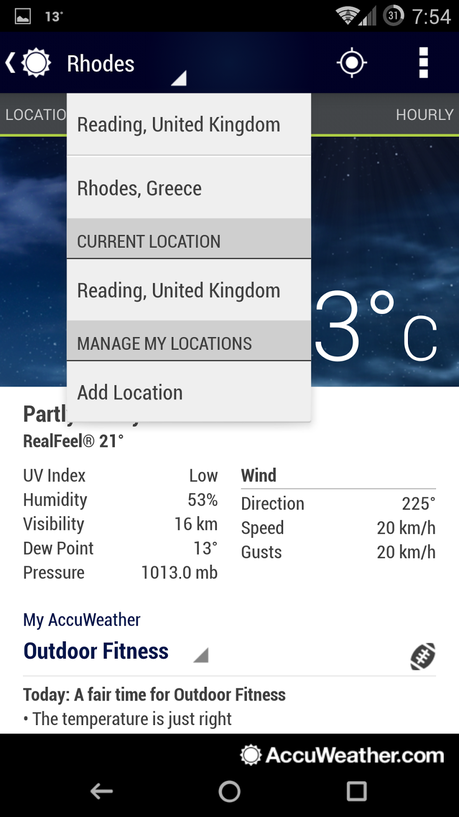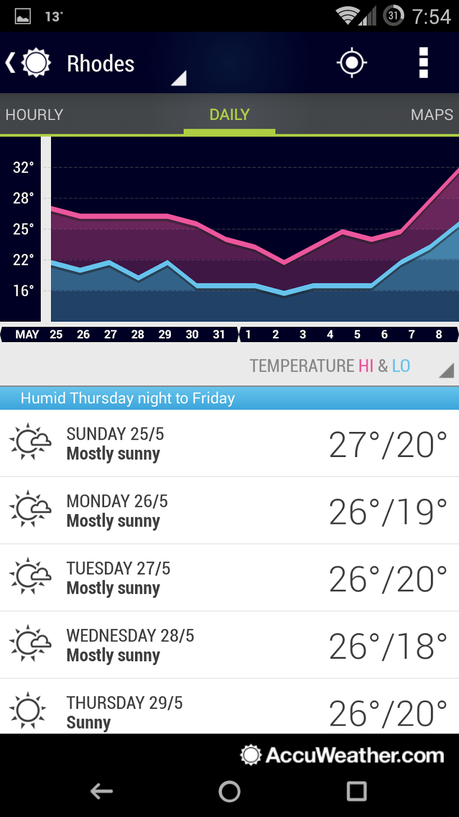 One of my favorite things to do is to boast to friends and colleagues about the weather that I'm heading towards compared to the weather I'm leaving behind! My favorite that I have found mainly because of it's looks, is an app called AccuWeather. Not only is it a great looking app but it's amazingly detailed with its weather information. You can choose unlimited locations to switch between. It gets updated with new forecasts every 15 minutes and has a full forecast up to 15 days. So you will be prepared with the right 
amount of sun cream or an umbrella. Don't forget to let your friends at home no what 
there missing with the share option.
Seeing the Sights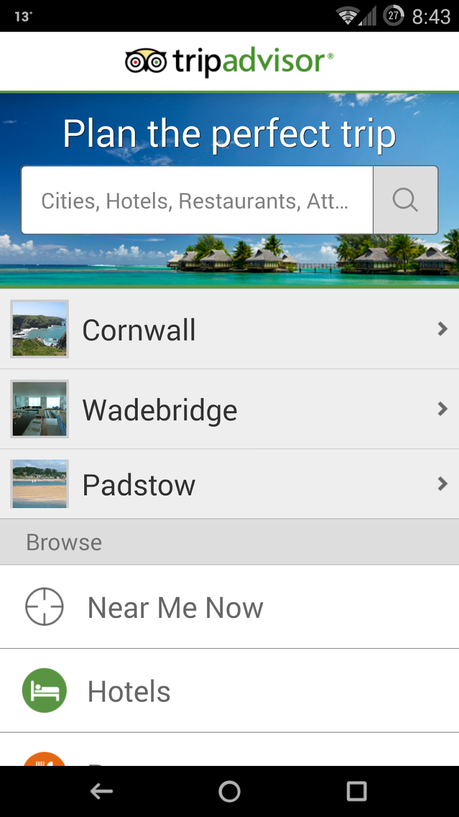 For me the only place to get honest and useful travel advice is Trip Advisor. It has millions 
and millions of reviews for tons of restaurants, hotels, activities, sights and attractions. It really comes into its own when you use it as a map. It uses Google Maps to get you around, and I know Google Maps is one of the best navigation apps although I do find that it has a hard time searching for places correctly. For me I find a lot of the time it doesn't give me the correct place without some extra tweaking of the search, and the last thing you need when your on holiday is to get lost. Google Maps does deserve an honorary mention because it has a special feature that  is great when traveling abroad. Before your trip, preferably on a WiFi network you can save the map you want for offline use. This will come in handy for when your trying to use your data as little as possible. 
Saving Data Whilst Abroad
Using your data whilst abroad can be a hateful experience because of the cost to you. Some strides are being made by the government and the carriers to lower the cost of using your mobile abroad. Some networks now offer free roaming and some offer deals to pay a little extra on your own contact to take your minutes, texts and data abroad with you. A recently released app from the makers of the Opera browser are helping towards this saving of data.  The app is called Opera Max beta, it basically compresses  the information in the web pages before they are sent back to you which saves you some precious MB's. Check the video below for more info!
Apps Worth Mentioning
In looking into these holiday apps there were a few that I would install for those just incase moments. One was Google Play Music, once you have subscribed for the reasonable price of £9.99 you then have access to Google's entire music catalog and radio stations. Songs can either be streamed or pre-downloaded to your phone. Just remember probably not best to stream or download over your roaming network. You could come home to a nasty phone bill.
An app that I consider essential is Google+ and the photos app  that comes with it. Google+ isn't the only app that can back your photos up to the cloud but only G+ will turn you photos in to GIF's, and edit your videos for you. Plus you can enable auto back-up so that if our phone does meet its untimely end your photos and videos are safe.
Hope you find some of these apps useful and enhance your holiday experience. 
Thanks for reading and if you find useful please +1 and share