Purchasing a car trailer is quite tricky. This is a long term investment. There are some major facts that you have to consider. So, if you are planning to buy a new car carrier for your business then this blog is only for you. This trailer buying guide will definitely help you to choose the perfect car trailer for your business.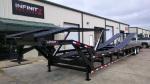 Open or enclosed?
There are two types of car trailers available in the market. They are open car trailers & enclosed car trailers. It's quite difficult to consider which one is best. This is because both trailers come with a number of advantages and features. So, before you buy a car trailer, always try to consider which one will be perfect for your business. Enclosed car trailers can protect the vehicles from outside elements such as sun rays, storms, heavy rains, etc during transportation but they have a height limitation. Whereas open car carriers do not have any height restriction and these trailers are also lightweight. Apart from that, open car carriers are less expensive. So, for a short & medium distance, an open car carrier is the best option to choose.
Car trailer size
Car trailer size is another essential factor that you should consider. The trailer size generally depends upon your requirement & budget. You can directly contact the manufacturers who offer car trailers for sale. They basically manufacture a number of car trailer models at different sizes such as 4 car trailers, 5 car trailers, 6 car trailers, etc. You have to choose the right car trailer as per your budget.
Trailer weight
The weight of a car trailer also plays a vital role. As compared to the enclosed car trailers, open car trailers are light in weight. The main benefit of a lightweight trailer is that it can achieve high speed very quickly at fully loaded conditions whereas heavyweight car trailers do give faster transportation. So, you want quick transportation, lightweight open car carriers can be the best choice for you.
Steel frame or aluminum frame?
Last but not the least, steel & aluminum both frames are equally advantageous but there are some basic differences. Aluminium frames are quite more expensive than steel frames but they are totally rust & corrosion-free. As a result, they can last a longer period of time. Steel frames are also long-lasting but they require basic maintenance. Apart from that, aluminum frames are light in weight than steel frames.
Buying a car trailer is not very difficult. You have to consider your budget & requirements. Hope this buying guide will definitely help you.