Share This Page!








How To Paint Perfect Stripes on a Wall (Even a Textured One!)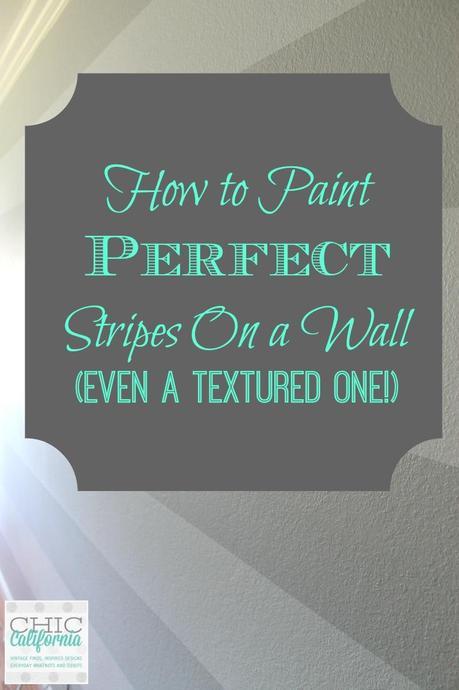 One of the projects that I've been working on to complete my Home Office/Craft Room Makeover was my feature striped wall. I've seen striped walls all over Pinterest and I have been waiting for the perfect opportunity to try it. I love that it creates some visual interest without necessarily having to add anything else to the wall. The stripes speak for themselves.
My original design plan was to go with a minty stripe.  But as I trolled through my own Pinterest boards I realized that while I love the mint trend, I rarely pinned it to my boards. I do however pin tons of inspiring design pics in shades of gray. (Not 50 shades!) So if you are trying to find your design style, look at your own Pinterest boards as a whole to see what has been inspiring you.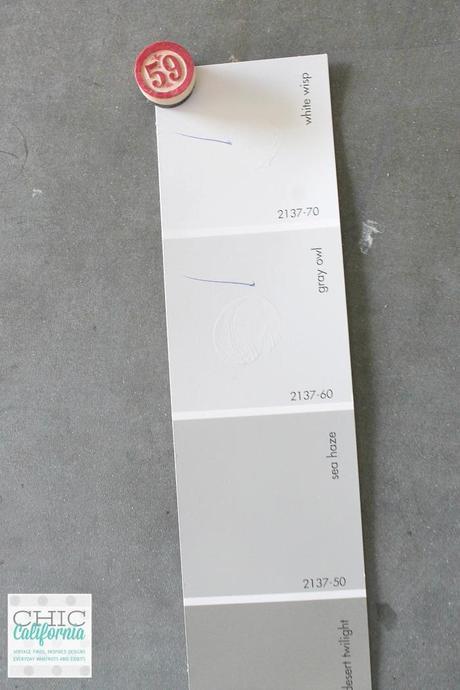 The paint colors that I chose for my stripes were both Benjamin Moore Colors. I chose Gray Owl and the next lightest color which is White Wisp. Not really a white at all, still in the gray zone.  The first step in making the perfect stripes is to measure your wall. My wall is 90 inches in between the baseboard and moulding.  I knew I wanted my stripes to start with a stripe of Gray Owl and end with a stripe of Gray Owl. And I wanted nice thick stripes 10 inches in depth. That is the width of the soffit above the window and I wanted it to look my stripe was wrapping around. So we went with 9 stripes, 10 inches each.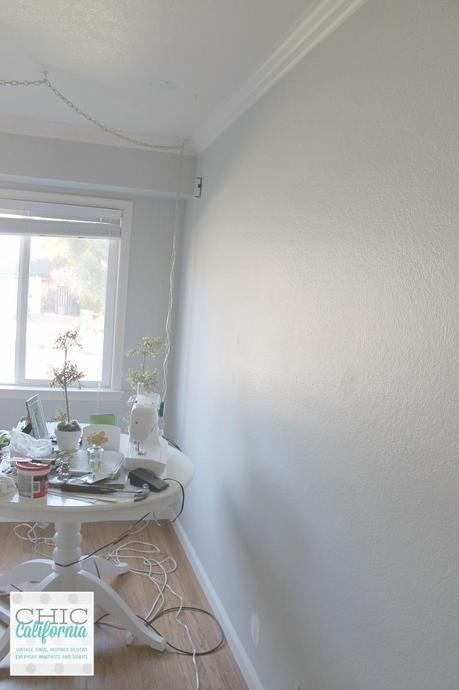 Paint your whole wall one color first. I choose to paint the wall with the gray owl since I had purchased more of that color. Bust out your measuring tape and laser level. And mark your space between stripes. Do this a few times along your wall so that you have some points to line up with your laser. Warning: No not attempt to tape off lines on a wall with precision when either you or your partner in crime are tired and or cranky. Luckily, our tired timing left us laughing more than arguing.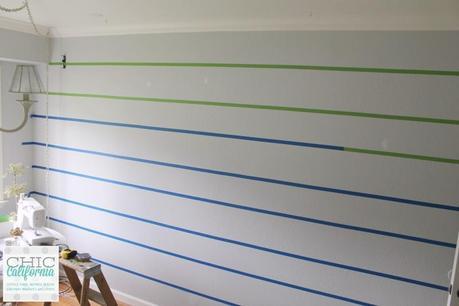 Once you have your tape on the wall make sure you smooth it down really well. (There is no reason for 2 different types of tape other than I ran out of Frog Tape and switched to the Scotch) Especially if you have a textured wall, which we do. Now here's the part that is going to keep your lines really crisp when you remove the tape!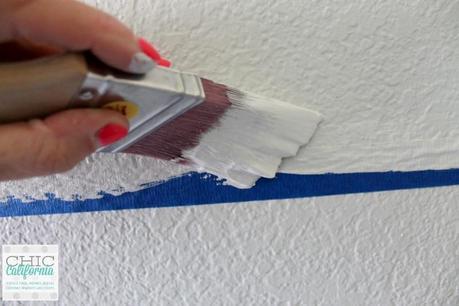 Paint over the edge of your tape with your base color. In this case, the gray owl paint. That way if there is any paint that seeps through it just blends into your non striped area. Allow this to dry and then using a roller, paint your accent color.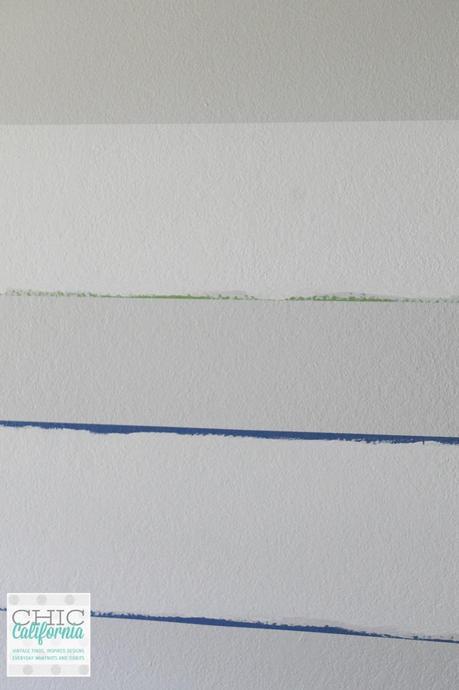 I painted 2 coats of the white wisp and then I removed the tape while the paint was still wet. This keeps the tape from pulling any dried paint off the wall and messing up your line. The result? Perfect, crisp lines every time!