My Home Office Shelving
In August I received probably the most exciting email I have ever received. An editor for HGTV magazine contacted me asking if they could possibly use a picture of my office for an article they were working on for their December issue about winter whites. After I settled down from doing my happy dance, of course, I replied yes. Trust me I read and re-read that reply to make sure I hadn't used too many exclamation points.
A few weeks passed and I hadn't heard anything else so I just assumed they opted to go a different direction. And then I heard from them again!!!!!!!! And now I can't control the exclamation points because they chose my office to use in the feature!!!!!!!!!!!!!!!!!!!!!!!!!!!!!!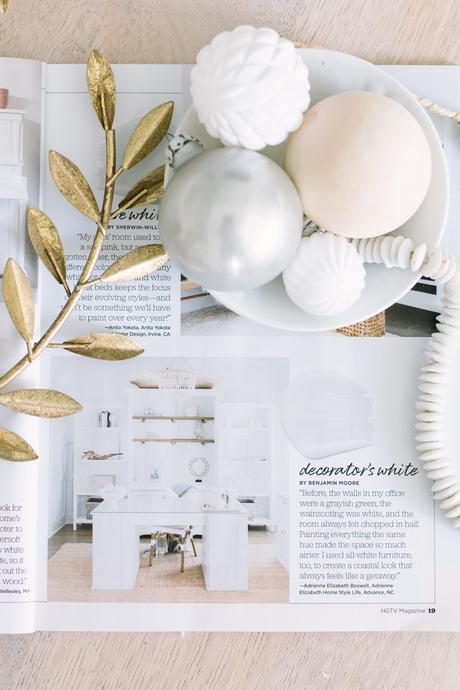 And there it is! In print! My home!!!!!!!!!! I'm still a little bit excited about it!!!!!!!!! Does it show?
Every time I share a photo of my office on instagram I get asked to link my shelving. I would love to link it for you, but I can't. My office shelving is an old armoire that I have slowly transformed over the years. And the shelves on either side are old Hemnes shelves from Ikea. Shelves that are exactly how I bought them many years ago. But since I can't link any of these items up for you, I thought it would be fun to take a little walk down memory lane.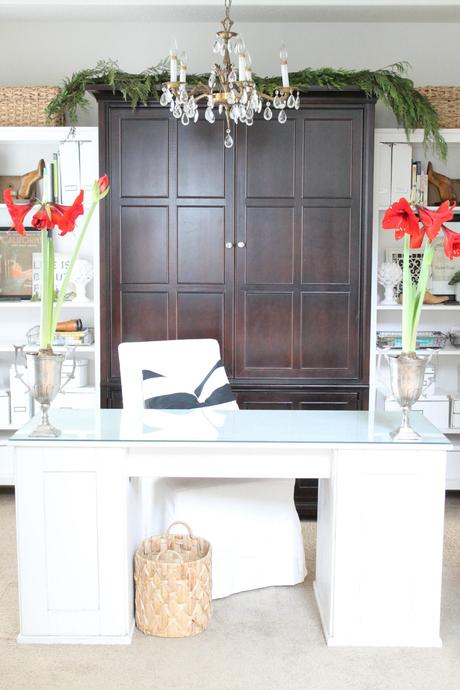 This is what the armoire looked like originally. Only for many years we actually did use it as a tv armoire. Then when we moved to Washington we finally had the option of putting the tv above the fireplace. It seemed a shame to get rid of a perfectly nice piece of furniture so I sandwiched it between 2 bookshelves and used it for storage. My intention was to paint it white but we didn't end up living in this home long enough for me to complete this project.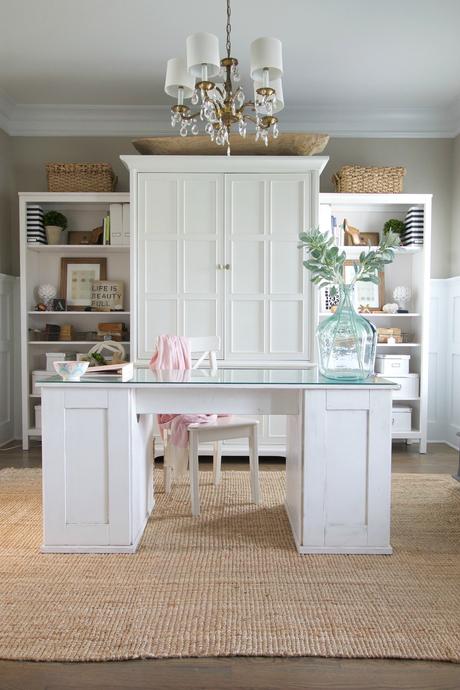 And then we moved to North Carolina and the armoire made the move too. This time I did finally paint it white. I found that SW Alabaster was a pretty good match to the Hemnes bookshelves so that's what I went with. I only painted the outside because painting the inside seemed like a daunting task with all it's shelves for things like cable boxes and DVD players and CD storage.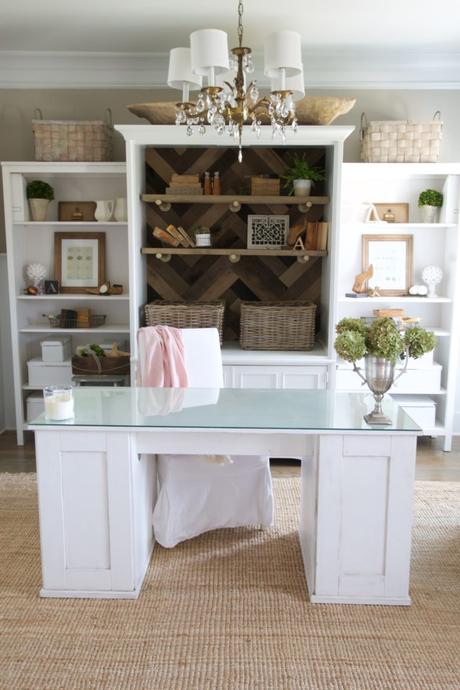 Then along came a little store called Home Depot. You may have heard of it. They reached out and asked if I wanted to do a project using a new faux barnwood product. Of course I channeled my inner Joanna Gaines and came up with the most farmhouse project I could think of. A herringbone barnwood backing inside the armoire. And rustic wood shelving held up with galvanized pipe, spray painted gold.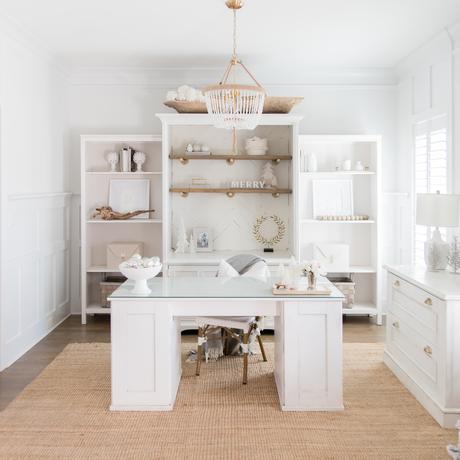 The faux barnwood look didn't last long in my home. Every time I walked by that dark wood felt like it was sucking me in. So I grabbed my Alabaster paint and went to town. I love that it still shows the herringbone pattern and feels so much lighter.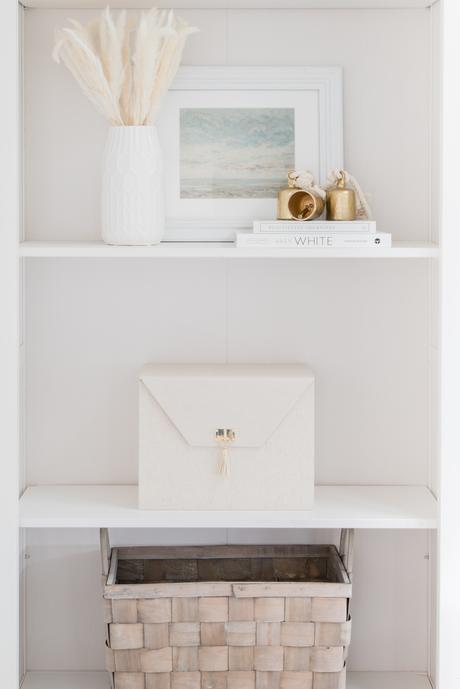 I'd love to tell you that there is something really special about the shelves that flank the armoire. But nope they are actually pretty boring! I think they look like more because I have them pushed up against the armoire, so it looks like one big piece of furniture.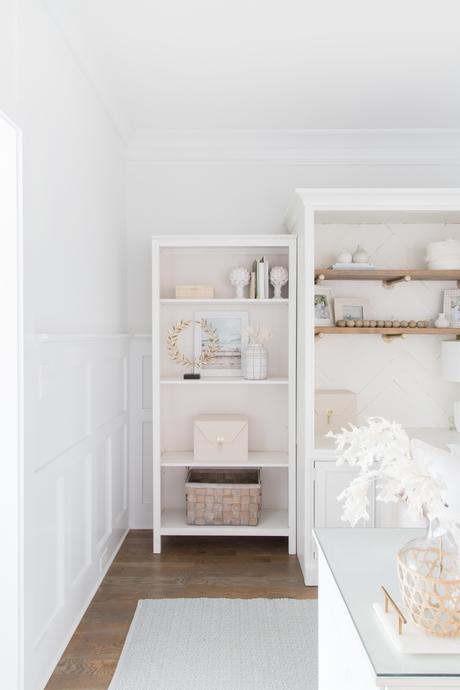 I have always intended to add some crown molding on top and trim along the edge and bottom to make these shelves look like they are built in to the armoire. But that project just hasn't happened yet.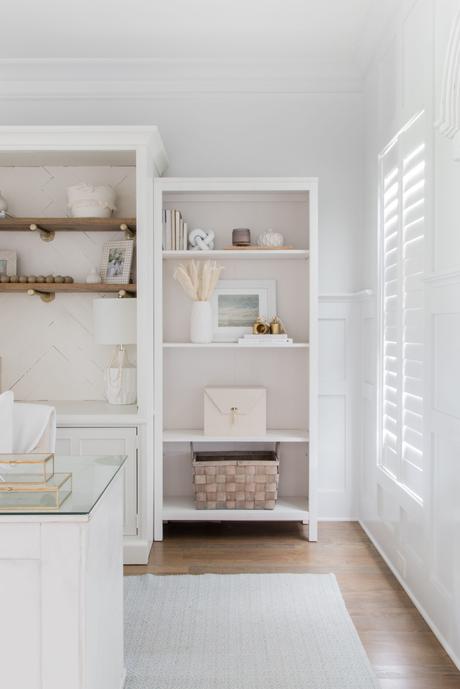 I do enjoy styling these shelves for the season. The shelves are adjustable so it's fun to change the shelf heights with the decor.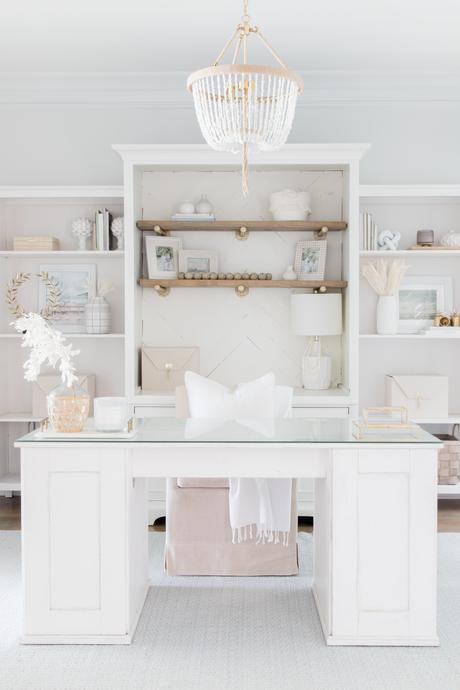 Here is a photo of my office decorated for fall. Over the years I obviously also painted the walls of my office to BM Decorators White and changed out the sisal carpet to a softer blue rug. I love that this room and these pieces have transformed for every style phase of my life. From traditional to farmhouse, to modern farmhouse to Modern Coastal. Not sure what phase is coming next? Maybe Modern California Traditional with a Coastal Twist? Is that a thing?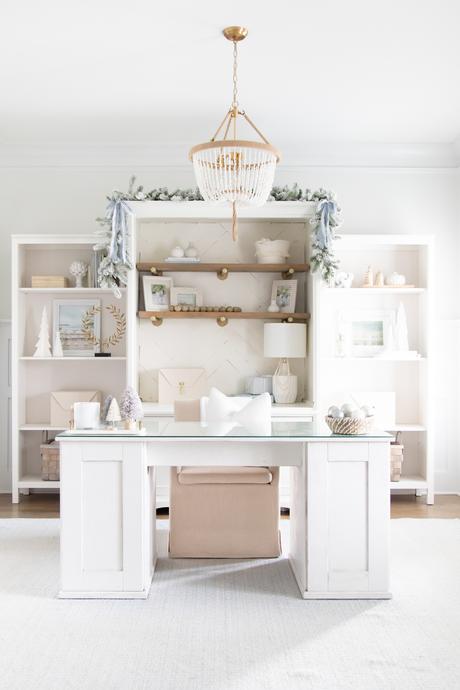 My office is currently decked out for Christmas. I do have thoughts about this room for the future. Sometimes I think I'd like to convert it back to a dining room. There have been occasions where additional seating would be nice. And then I would just use the dining table as a desk when I need it. Other days I think about turning it into a sitting room with 4 conversation chairs around a coffee table, then maybe a small writing desk against the wall. But if you see my husband, don't tell him about my plans. This armoire is now so heavy with the wood backing that it's going to take professionals to move it out of the house. And I don't think he's going to be doing the happy when dance when I tell him.
Let me know what you think about this transformation in the comments below. And if you think I should keep this room as is or make some changes. I'd love to know your thoughts. And feel free to pin any of the images to use for your own inspiration. Ok maybe don't pin the first 2 versions, stick with the updated looks!