Simplicity for the Season Holiday Home Tour
It's the holiday season and if ever there has been a year to make home feel extra special, this has been it. I wanted this year's holiday decor to feel like a twinkly, more sparkly version of my everyday decor. We've been spending so much time at home this year that I didn't want to over clutter my spaces. Simplicity for the Season is my theme this year. You can see last year's theme HERE. Oh, yea I always pick a theme if you're new here. I wanted my spaces to remain light and airy and open so I decked the halls with light toned woods, neutrals and just a touch of blue.
I hope you enjoy my tour and find inspiration for your own home!
This post contains affiliate links. When you shop through these links, I may receive a commission on your purchase. This does not effect the price that you pay. You can see my full disclosure policy HERE.



I've tried to link as many holiday products and items in my home. But if you can't find a link please check out my Shop My Instagram for additional links.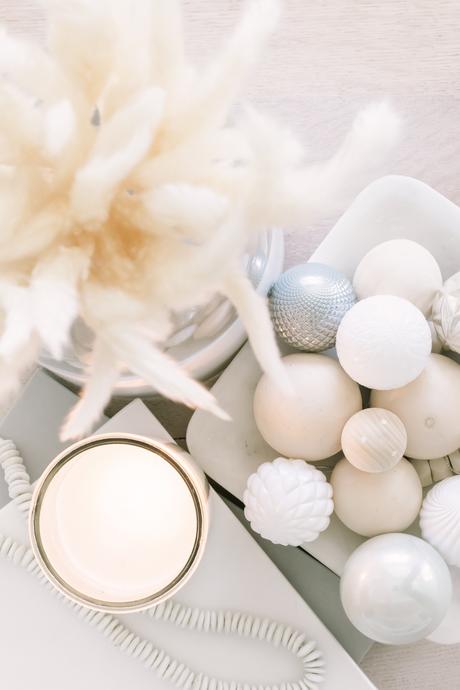 Every year I try to collect all the elements I want to use in my holiday decor. I feel like pulling it all together helps me visualize the colors and textures I want to use. You can see I've gathered lots of neutrals with the natural elements of wood and texture of bleached pampas grass.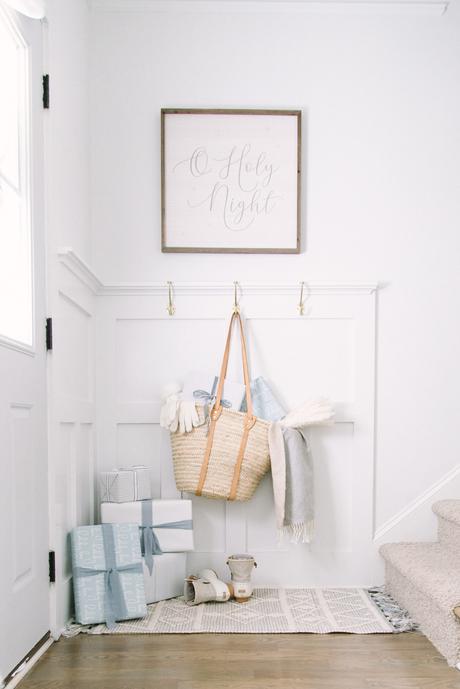 The entrance always sets the tone so you'll see a combination of everything in my theme color palate here. We won't have lots of guests this year so filling up our entrance coat hooks with decor fills the void.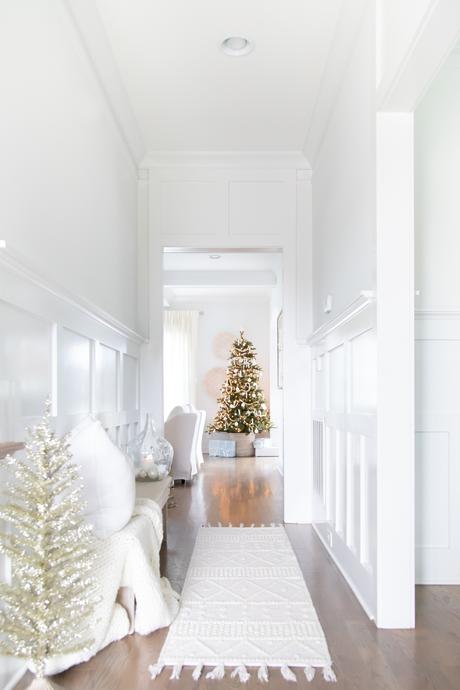 Right when you enter our door you can see our Christmas tree. I love how it sparkles down the hall. But you'll get a closer look in just a bit.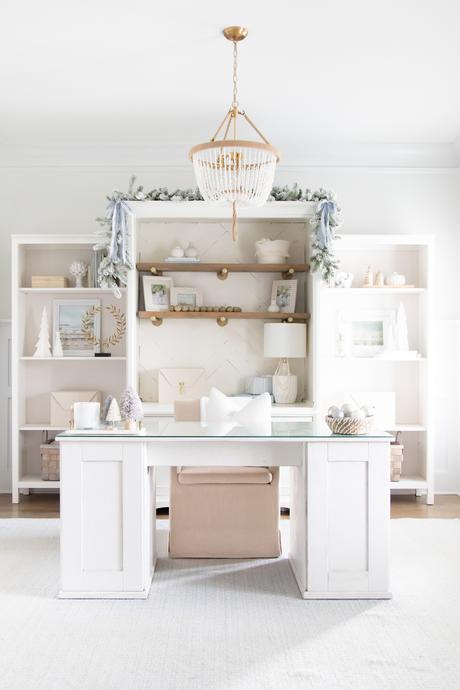 I added a touch of flocked greenery over the top of my office shelves and added a double layer of ribbon to tie in the colors of the rest of my home. I kept much of my shelf decor the same but added in some white ceramic trees and wood carved bells for the season. I have a small collection of bottle brush trees for some texture on my desk. And you can't go wrong with a basket of extra ornaments.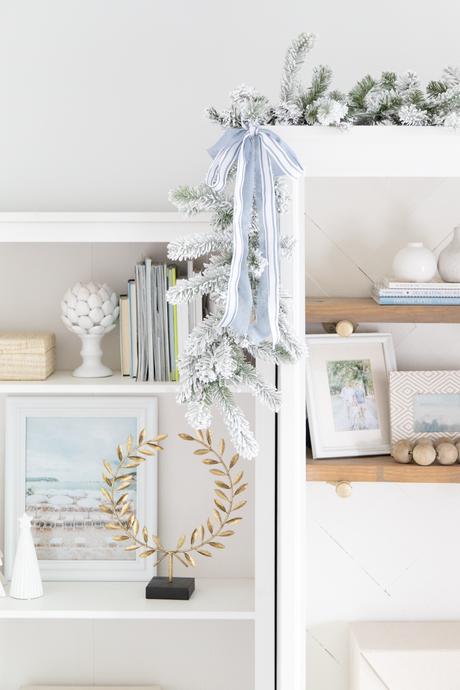 Here's a close up of the flocked garland and ribbons. If one ribbon is good, 2 must be better!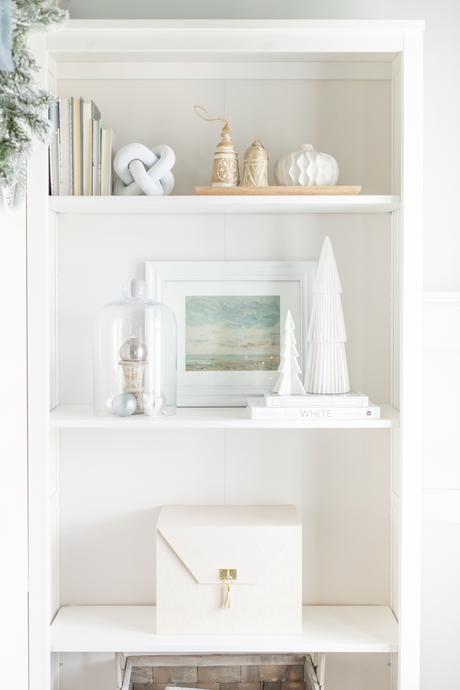 I really didn't purchase much new holiday decor this year. That's part of the simplicity. I purchased these wood carved bells last year and I've collected the white ceramic trees over the years.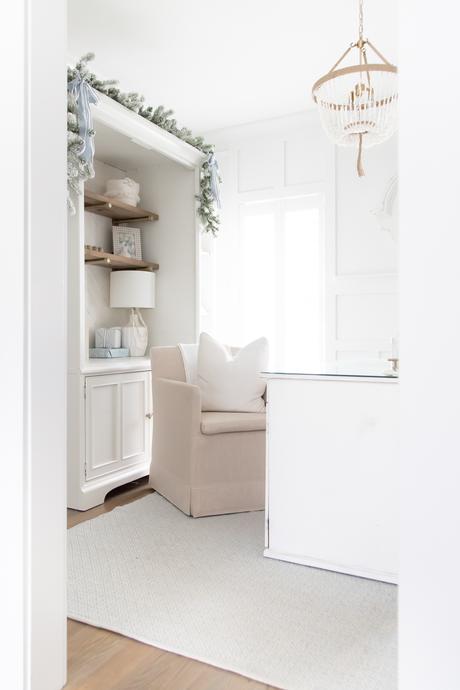 I always love this view from my kitchen into my office. It's especially nice when there isn't paperwork piled up!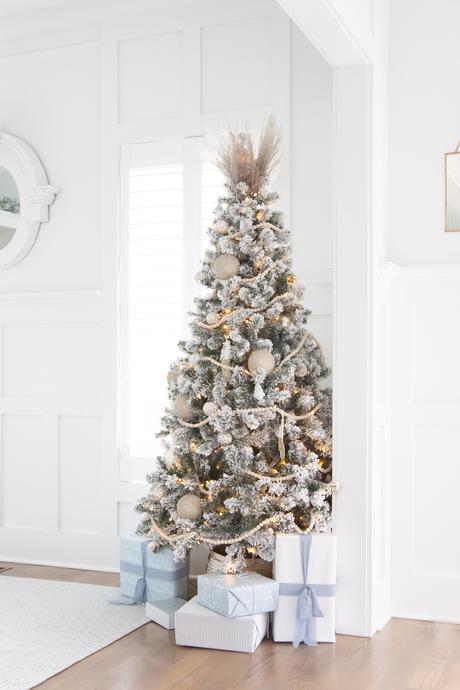 I used my flocked tree from last year here in the corner of my office. I love that I can see the lights of the tree through the window in the evening. I kept the decor of this tree minimal with ornaments of years past and this natural wood garland. Instead of a tree collar I used a basket.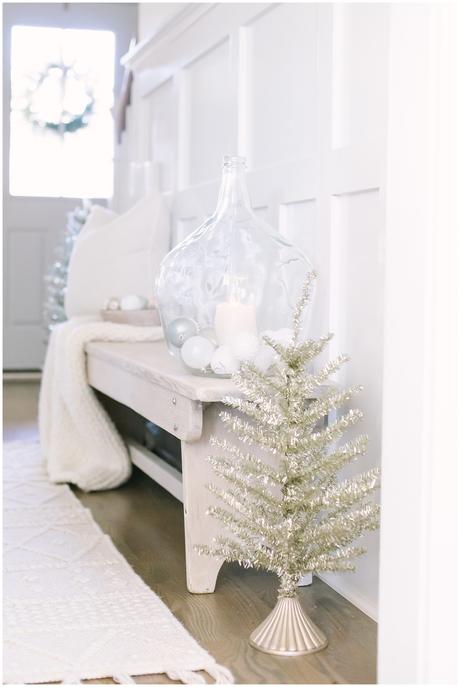 This is the view down my hall towards my front door. This glass demi john is probably one of my most versatile decor pieces. I love that it can be filled or left empty. And I move it around my home a lot. So if you ever come across a clear glass demi john bring it home with you. You won't regret it.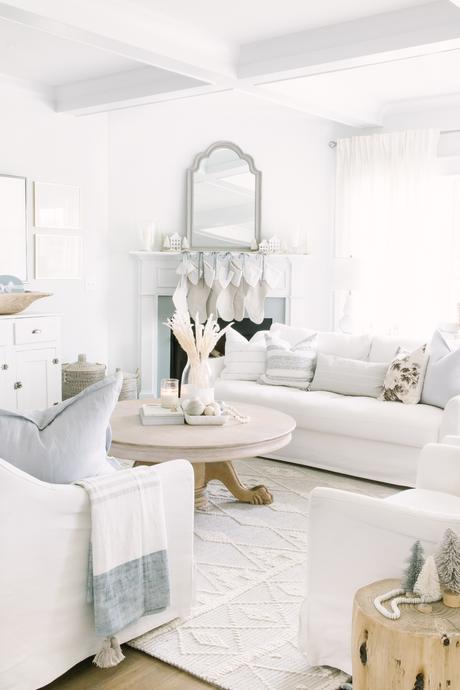 Now we're getting into the main event! The stockings were hung by the mantel with care and that was no exception here. I made these stockings many years ago out of drop cloth and duck cloth.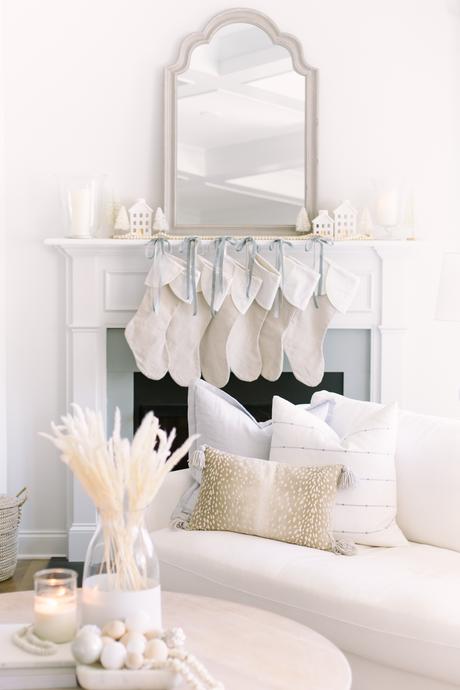 This is the room where my simple theme really comes alive. If you follow me on Instagram you know that I tried to use greenery on my mantel but it just wasn't working for me. I put it up and took it down many times and realized it was the simplicity of a plain mantel that made me happy. So I stuck with my white ceramic christmas houses, white candles and wood bead garland. The velvet ribbon helps to tie in all my pillow colors.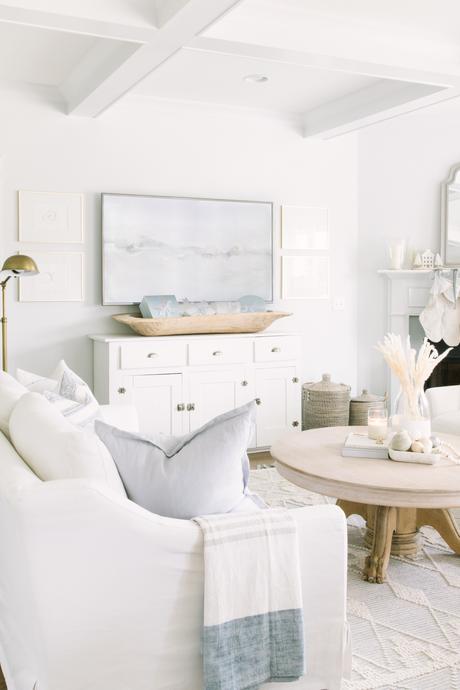 This is another item that I move around my home often. This giant dough bowl is perfect under the tv to fill with gifts. And it helps carry the wood tone to this side of the room.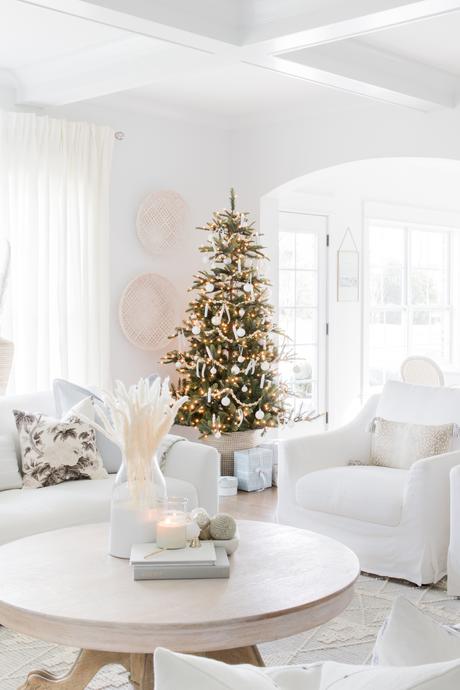 Ok, lets talk trees! Before the holiday decor began I had an olive tree in this corner. And I loved the light and airy look of it. In years past I went with a heavily flocked tree. But this year that felt overwhelming for the space. While I used lots of decor from years past, I did purchase this tree new this year. I love that the branches are a little sparse. It creates space for ornaments and lights.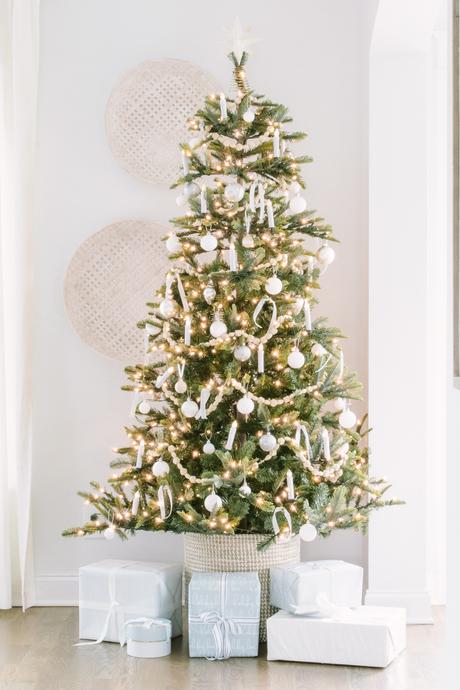 I decorated my tree with geometric wood garland, white ornaments in many sizes, light blue velvet ribbon and sparkly faux candles. I also used a simple basket for this tree instead of a tree collar. I topped it off with a white washed wood star.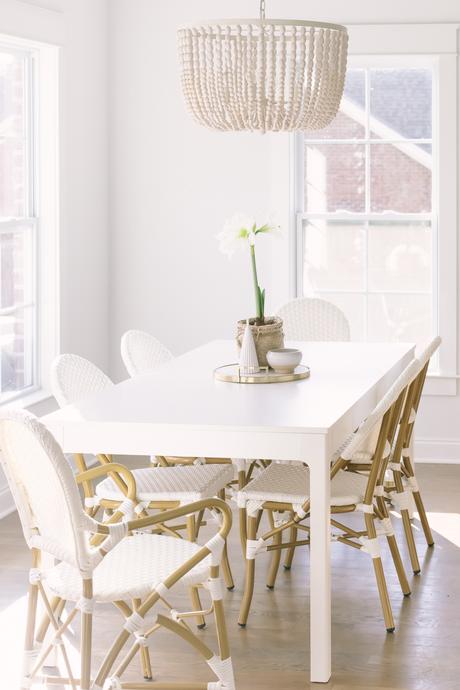 I always purchase flowering bulbs in the hopes that they will bloom just in time for the holidays. Honestly, most of the time their timing is off. But this amaryllis bloomed just in time. It's the perfect simple table centerpiece.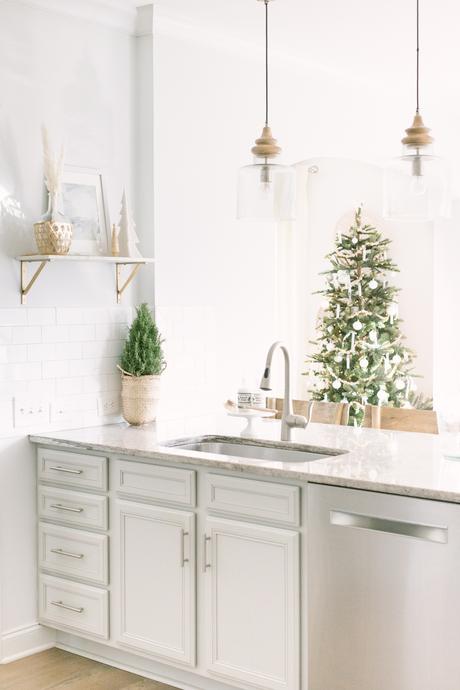 Our downstairs area is what I would describe as semi open concept. We have open spaces but we still have little definition between our rooms. But our kitchen opens up just enough to the family room so I can enjoy the tree while doing dishes.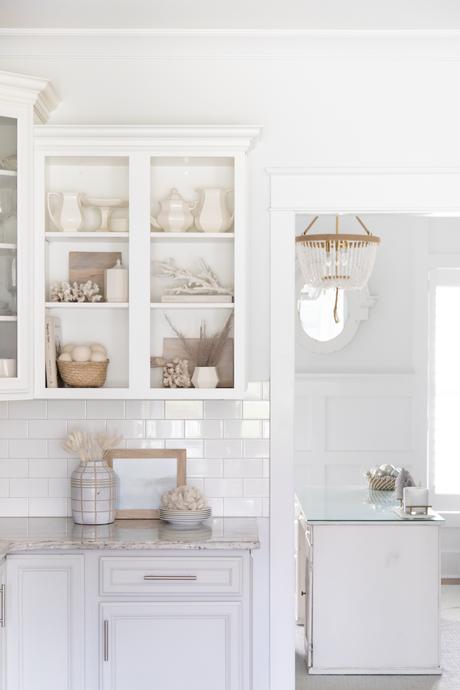 I still have plans to remove this set of kitchen cabinets and install open shelving. but until then I just have the cabinet doors removed. I still have plenty of cabinet space for storage so I love using this for decor. I kept this area even more neutral with white dishes and white washed wood tones and added my favorite coral pieces too.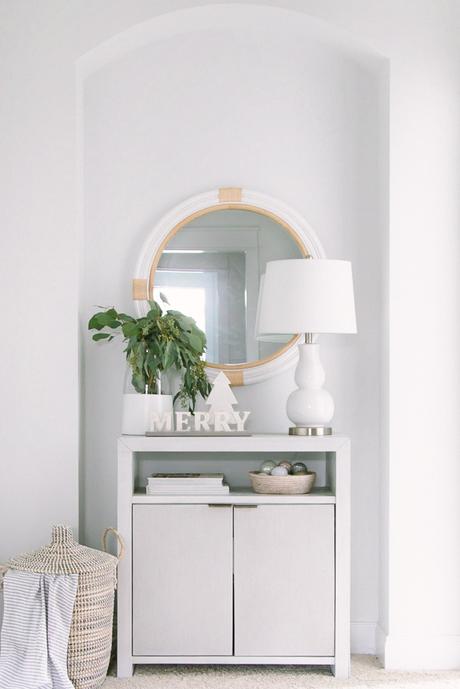 I really only decorate our main living spaces for the holidays but I did add little extra holiday decor on the upstairs landing. Simple eucalyptus adds some green and I used a white marble tree and sign as a finishing touch.
I hope you enjoyed this Simplicity for the Season Christmas Home Tour. I'd love it if you'd pin your favorites to use as inspiration on Pinterest.
Merry Christmas!