Whether you are wandering the streets of New York, Paris or Tokyo, you will want to look your best while on holiday. How do you do that without dragging your entire wardrobe with you, though?
Believe it or not, there are ways you can look chic and stylish while traveling with minimal luggage. All it takes is a little planning and a lot of creativity.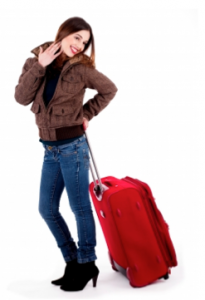 Every Item Should Be Versatile
One of the major rules for packing light and looking great is to invest in a few essentials that can be worn in multiple ways so that you don't have to carry around so much. For example, a simple knee-length cotton dress in a neutral color, such as black or cream, can be worn with sandals and a broad-brimmed hat for sightseeing. Then, it can be made glamourous with the right jewelry, lipstick and heels.
That dress should be made of a wrinkle-free material like silk or cotton with a hint of lycra so that you will not have to worry about finding an iron when you want to wear it.
When it comes to your shorts, pants and shirts, each top should complement a pair of bottoms. It sometimes helps to choose a color scheme. If you are bringing a top that only works with one pair of pants, this is not very practical for packing light and you won't wear it enough to justify it.
Make sure that every item of clothing you bring can be used in several ways, is of good quality and fits you well. There is no point bringing extra clothes if they don't fit you or you don't feel comfortable in them. They will simply take up space in your luggage.
Simple Clothes, Vibrant Accessories
Another trick for packing light is to keep your clothes simple and elegant. Then, flaunt your unique style with your accessories. A scarf or a necklace takes up less room in your luggage than another pair of pants or dress. You can wear the same clothes with a range of different accessories to create different looks.
Don't be afraid to buy accessories from wherever you are traveling as well. Gorgeous silk scarves in Southeast Asia, handmade bracelets in South America and shell jewelry in New Zealand can be used to give that little black dress or plain white T-shirt a unique spin. They also make great mementos to remember your trip by!
If you are visiting a fashion-forward city such as Milan, Paris or New York, you will want to do some shopping while you are there. Leave room in your suitcase so you can bring plenty of things home.
Stay Natural
When it comes to hair and makeup, your look should be pretty but low-maintenance. Before you leave, have your hair stylist cut your hair so that you like the way it looks when it dries naturally. A hair-dryer is a heavy thing to carry around and it might not match the voltage in the foreign plugs, so work with your hair's natural texture.
As for makeup, you don't need to carry your entire collection of compacts and lipsticks with you. Choose your best foundation, blush, mascara, lip gloss and eye shadow and leave everything else at home. It's nice to have different shades to choose from, but if you bring the right basics you should be able to create a great look while you are traveling.
Many things go into planning a holiday: picking out the right flights to New York or wherever your destination, booking hotels, etc. Keeping these things in mind will at least help you look great during your trip without dragging heavy luggage behind you.
About the Author: Sarah Rogers is a Manchester-based fashion and travel blogger. She loves giving her audience information on flights and advice on how to plan chic getaways.