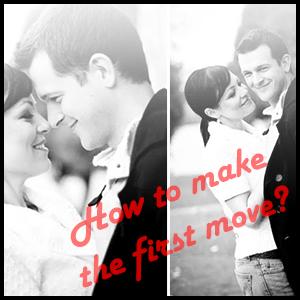 After admitting to yourself and coming out clean, that you have been furtively crushing on someone lately. The point of apprehension here is what should be done next? No, we don't assume sitting all by yourself and fantasying about him/her will be of any help for you guys to come any closer. And as it is rightly said "It's better late than never", perhaps initiating a move will surely be fruitful and would prove to be a drastic step ahead to clear up your doubts.
Below mentioned are certain conceived guidelines that one should be familiar with, so as to make the first move.
A little flirting is healthy
Flirting is always helpful when it comes to woo your partner, but, it is usually taken as a notion that might end up portraying one as desperate or eager. It is actually more of hinting positive signs or smart gestures on the slightest pretext to let one know your level of interest. When we talk about guys, we would like to say, keep yourself noted that women appreciate spontaneity with a dash of humor. So get your lady charmed by your sweet nothings and witty comments. And for the girls, it is not advisable to stick to that vintage idea of waiting for the guy to introduce a move either, as guys reportedly get attracted to girls who are a little flirtatious.
Impromptu meet does its charm
It is but obvious that one desire's to catch a glimpse of their partner often; nevertheless this might freak him/her out at once, as you definitely do not want to be subjected as clingy. Suppress that jittery and nervy feeling deep inside you and pretend to be relaxed about randomly catching up over a movie or a coffee break, even though you might have planned that thrice in your mind by now. Last minute casual plans often turn out be unexpectedly romantic. Most probably, this might not click at the very moment, but patently will be like laying the foundation already.
Frequent communication for a prolonged spark
Frequent communication in the form of dropping a text or a mail, or calling him/her up somehow helps striking the right chord and might be a hint that he/she crossed your mind for a minute or so. The conversation content can be anything from discussing the overall day or reciprocate playful vibes, as the point here is to be in continual touch which can definitely help your special someone to refine his/her thoughts about you and in the process will make you guys come closer and known to each other better.
Show it with your body language
Since an action surely speak louder than words then why is there a need to limit yourself only to verbal communication, when you can speak for yourself by actions which is believed to be the most crystal clear signals when it comes to show your feelings. It is always recommended to flaunt an optimistic attitude and body language which leads to a healthy and positive atmosphere. For instance, guys opt for a firm body posture and not fidgeting with objects or being jittery while saying anything. Boys appreciate when girls confidently maintain eye contact or lean forward to say or play with your tresses and exchange smiles in between a discussion creates a certain amount of comfort and acceptance.
Talk it out
If you are thinking of taking your love life a step further, certainly there must be specific known and unknown facts about him/her you would be curious to know. It is always advisable to get the nub of all matters concerning each other, when it comes to seriousness in a relationship. Do not misrepresent yourself by deceiving, if you expect an honest reply from your partner then the same is expected from your end. Any relation cannot be based on misconceptions or lies, so it is better to talk your heart out and clear all the qualms bothering you which might either be a boost to continue the relation or discontinue it regarding the differences. This sure gives you a way out to know the other side of your partner and decide to start on or move on.
Don't beat around the bush
At times it is advised to express your feelings to the other person clearly and make your intentions clear. Instead of taking your relationship elsewhere, if you feel you are compatible with the other person, just come out clean and show them the love you feel. This may be a bold step all together but at least it gets the weird feeling of uneasiness and nervousness out of the picture. You might get a spot on answer whether if the other person shares the same feeling as you do or that they think differently.
So, it is suggested to follow the above mentioned points in order to take the lead of your love life instead of waiting for the other. If they do not turn out as per your expectation, you would be convinced that you made an effort. As it is said one would never know until they try it out and so there will be no regrets even for once as you have already ascertained yourself for taking such a decision.