Too many cardboard boxes at home? Try your hand at creating this cute squirrel with cardboard and dried leaves! It only takes 45 minutes to an hour to complete. Best of all, it brings a smile to your toddler's face while they learn. Get crafty now! 
家里堆了太多纸皮?一起来动手自作小松鼠。45分钟-1小时就能完成的小手工作品。又能逗家中的幼儿和让他学习。你还在等什么呢?
How to make cardboard squirrel for Toddlers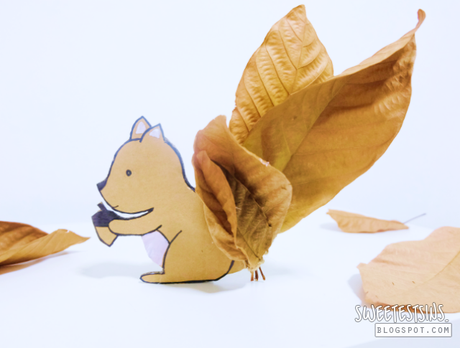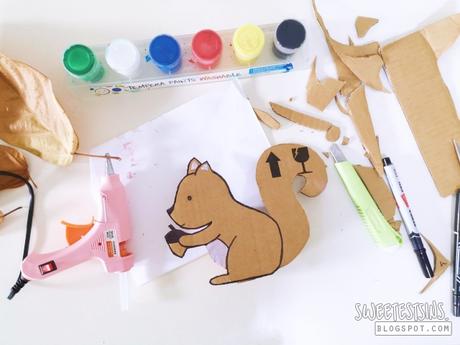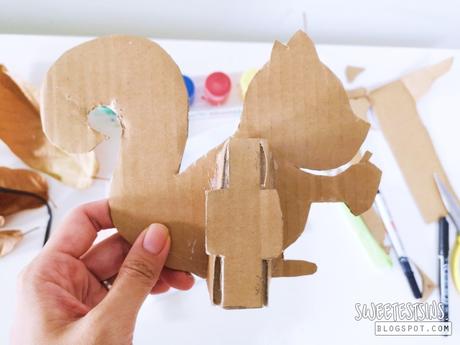 Theme:
Recycled & Nature-inspired
Materials required: 
Dried leaves, cardboard box, string, marker, non-toxic paint, hot-melt glue gun
Directions: 
1) After drawing the outline, cut out according to the outline
2) Use a black marker pen to outline
3) Use non-toxic white paint to paint on the tummy and ears
4) Draw a double wing easel outline and cut accordingly
5) Be sure to cut out the two wings and fold the rest.
6) Use a glue gun to join the double wing easel to the squirrel
7) Determine the position of the dried leaves
8) Use craft string to tie the leaves together before going round the cardboard a couple of times to attach.
9) Use glue gun to hold leaves in place
自制纸皮松鼠
主題:
环保♻大自然
所需材料:
枯叶,纸皮,绳子,马克笔,水彩,热熔胶枪 
步驟:
1)画好轮廓后,沿着线剪下去。 2)用马克笔将线加深。3)使用非毒性白色水彩给松鼠的肚子耳朵上色。 4)画个纸背掌的轮廓,沿着线剪 5)割出两个翅膀,其余的直线对折。 6)用热熔胶枪把支架贴在松鼠的背面。 7)确认枯叶的位置 8)用绳子把枯叶连在一起再围着纸皮绕几圈 9)用热熔胶枪固定好叶子的位置就完成了
Let me know if you try making it by tagging me on
Instagram @yongwei318
. If you haven't already subscribed to
my YouTube channel
, do so now to be notified of new uploads!    
--------------------
CONNECT WITH
--------------------
SWEETESTSINS