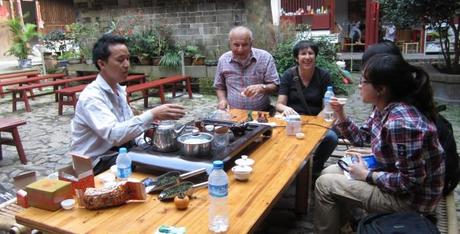 0 Flares
Twitter
0
">
Facebook
0
Google+
0
">
Pin It Share
0
">
StumbleUpon
0
">
Reddit
0
">
0 Flares
×
How to make friends and explore China
Have you ever wondered how it feels to be a celeb? Well that is how we feel pretty much all the time when we walk around our corner of China. There are plenty of Non Chinese people in Beijing and Shanghai, but in Xiamen, even though there are expats around, mostly when we ride a bus, or walk into a mall or a train station, we stick out. And people do smile, gawp, wave ,say hello and ask us to have our photos taken with them. Some people think this is rude. We think it's funny. Hell,we even had our photos taken with a bride and groom on the beach once.
"In the middle of nowhere we got off one bus and on another, and then a couple of smiling chaps rode up on motor bikes and took us to the guest house in Hukeng village…"
Anyway, one time on the bus a girl started talking to us, and told us she was an English Major called Sue,and can we be friends?  Cool, we said, come over for tea. So the following week, Sue and her friend Echo came over for tea, and before we knew it we had arranged to go on a trip with them to visit a place called Yongding, about a 3 hour ride from Xiamen, where there is a UNESCO Heritage site called the Hakka Earth Houses. Don't worry, they told us, we will fix everything. Now this may sound weird if you don't live in China. But these things happen to us all the time.We meet someone in a store or on a bus and we suddenly become lifelong friends.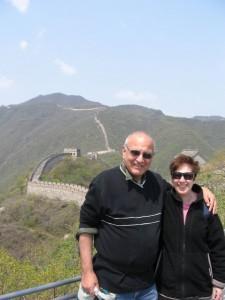 So over the National Holiday in October, Sue and Echo took us to
Yongding
, on a rather bumpy bus ride. They booked the tickets and reserved a guest house, which was just as well since we had no clue how to do that as our Chinese is only good for ordering at the restaurant. In the middle of nowhere we got off one bus and on another. And then a couple of smiling chaps rode up on motor bikes and took us to the guest house in Hukeng village. The owner Stephen was an extremely helpful chap who actually knew some English. He also served a mean Hakka dinner. The room was pretty basic, but clean and with a shower,but the bed was really hard and looked at least
100 years old
and was made of beautiful carved wood. The Hakka are one of China's 57 Ethnic minorities, who built the circular Earth houses or Tulou as protection from wild beasts and invaders in the 12th Century, and have continued the tradition.The houses are communities, several stories high, housing many families, with a circular shared area in the middle, which is used for cooking,eating, playing with kids and selling. The tulou are built in clusters, sometimes with 4 or 5 round houses in a group.
Over the weekend, we visited a number of different Tulou (Earth) houses, of varying sizes, the mostly round but we did see some square ones too. We traveled in a hired minibus with some other tourists, none of whom spoke any English but we all nodded and smiled a lot, and occasionally Sue translated something. The driver took us up in the hills above the villages so we could see the tulou from above and enjoy the view which was really relaxing and rural.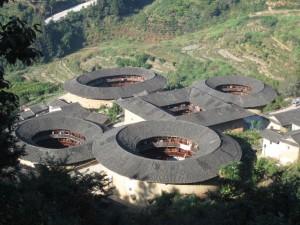 Over the two days we strolled around the villages,experiencing Hakka village life, picked some fruit (I don't know what it was) and sat around drinking the local tea which is apparently very famous. We saw how village people prepare the rice grains and tea leaves, and there were also some graves of ancient people with some curious monuments. The older Hakka don't even speak Mandarin, so we could 't ask Sue to translate them, but the universal nodding and smiling went a long way. The whole atmosphere of the place was amazing- it was really like traveling back in time,especially when the day trip people left as we sat around in the Hakka guest house enjoying the quiet and the slow pace. All in all the trip was something very special, and hard to describe, and something that never figures on a regular China tourist itinerary – we felt privileged to be able to have had this experience, thanks to Sue who was not afraid to say hi to us on the bus, and who of course is still our good friend in Xiamen.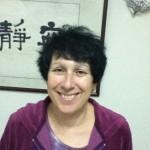 Ruth Sheffer is originally from London, England. Ruth spent a year in France where she got bitten by the travel bug. From there she went to Israel where she met her husband Dan. After raising their family they took off to China looking for adventure and are now in their third year of teaching and exploring Asia.