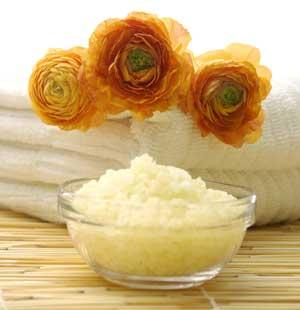 This recipe for emulsified sugar scrub was provided by Kimberly Sanchez of Natures Art. 
16 oz Batch
136 grams – Olive Oil
113 grams – Soybean Oil
68 grams – Cocoa Butter
68 grams – Shea Butter
45 grams – Emulsifying Wax
9 grams – Beeswax
9 grams – Fragrance Oil (body safe)
5 grams – Phenonip preservative
Plastic Jars and Lids
Light Scrub – add 16 oz sugar
Very Scrubby – up to 32 oz sugar
DIRECTIONS:
Weigh all ingredients except the fragrance oil & preservative in a heat proof container and put into a double boiler.
Heat and hold for 20 minutes at 70C to destroy all possible bacteria. Remove from the heat and put into your refrigerator until it reaches 45C.  Add the fragrance oil , body safe color if you choose & preservative now, then return it to the refrigerator to cool further.
Now Whip it with a hand mixer with whisk attachments or your Kitchen-Aid. Whisk until it looks like pudding . Then add the sugar and whisk until well incorporated.
Pour into jars and let sit until hardened. 

For more fun recipes, videos, and soap making assistance, visit  Everything Skin with NG & Kim
Natures Garden offers many free recipes for soap, bath and body products, candles, and air freshening.  View our Free Recipe Box!