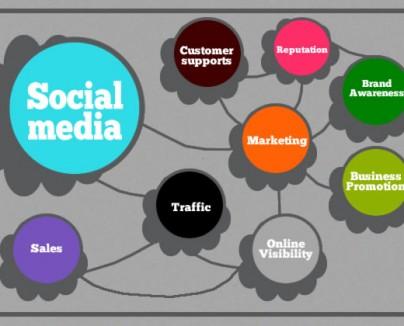 So how do you leverage social media for brand awareness and sales? How well are you using social media for your business marketing and promotion?
Nowadays, hardly you will see a business that's not on social media. Probably because it seems everyone has realised the potentials of the social media platforms.
Social media has metamorphosed from a relatively unknown platform some few months back, to a much-talk-about and most used platform almost everyone, especially small businesses and big brands, can not do without.
Nowadays, if you are running a business, social media has to be top of the list in your business marketing strategies.
Social Media For Marketing And Business Promotion
Social media has changed the way business interact with customers. Gone are those days when customers will have to go through lots before they can communicate directly with their favourite brands. Social media has now made it easy!
And for business owners, social media is a breath of fresh air, especially when it comes to online marketing and business promotion. It is simply a catalyst through which internet marketing has been transformed.
But is your startup maximizing the benefit of social media? Are you getting good ROI for your business investment on social media?
Social Media For Brand Awareness
How popular is your brand? Have you considered using social media to improve your brand awareness? Is your startup making use of social media to reach millions of potential customers?
Are you using the right social media platforms for your business marketing? Are you consistent in your business social media marketing efforts?
With millions of users, social media today has the capability to help your brand improve its visibility and awareness.
Most of the top brands on social media are making use of the platform not only for promotion purpose, they also use the platform to further consolidate their brand awareness.
Small business owners can hugely benefit from this as well. If your business is not on social media, it simply means your business is not existing. This is because in our world today, being on social media truly helps in term of online reputation management.
Mind you, if your business is already on social media platforms such as Twitter, posting a tweet or two a day is not what social media management is about. You can never achieve success with that!
Please read: How To Effectively Use Social Media For Your Business Marketing
Diversified online presence
If you truly want your business to benefit from social media, it's important to ensure that your business makes use of multiple social networks. It's not just about being on Twitter because there is more to social media marketing than that.
You should try as much as possible to make sure that your business is on all major social media platforms such as Twitter, Facebook, Pinterest, Google Plus, Instagram and others. This is the only way you can be able to get more out of your business social media efforts.
You have to diversify your business's online presence. Don't focus on the likes of Facebook and Twitter alone.
Other social media platforms, especially, Pinterest and Instagram can also help your business. These two social media platforms play a major role in online shopping and consumers decision making.
Social Media For Sales And Revenue Generation