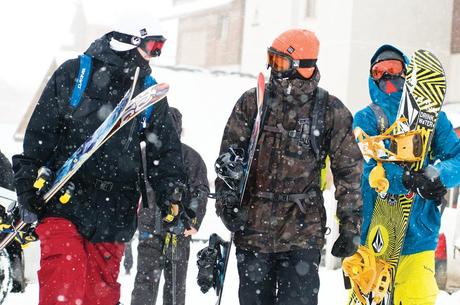 Staying warm when you ski will probably determine whether you're going to have fun or not. Although it is a very physical activity, taking extra precautions to keep your body warm when on the slopes is very important.
Before You Ski
Preparing yourself for a hard day of skiing involves a little bit of a pre-ski routine. Get a good night's sleep the night before and try and get an early night as you might be getting up early to head to the slopes.
An hour before you go skiing, make sure you have a meal and a drink that will keep you energised until your next break. Make sure it is one hour before though – it'll give your body a chance to digest your food! Whole grains, stews and hot drinks are great for boosting energy levels and bodily warmth.
Wrap up Warm
Try a three layer system when choosing your clothes for skiing – any more layers and you'll end up looking like the Michelin man!
Thermal underwear is a great base layer and these garments should be made of a material which keeps moisture away from your skin – i.e. doesn't make you sweat, as this can make you colder as it dries.
A jumper and tracksuit bottoms as your second layer will keep you warm, and a ski jacket with ski trousers and boots will keep you dry on the slopes so that if you do fall over, the cold snow won't seep through to your skin and make you cold. Weatherproof clothing will keep you warm and dry throughout the day.
75% of your body heat is lost through your head so wearing a close fitting hat such as a beanie will keep your head and ears warm and will also fit snugly under your helmet. Ski helmets are also often fitted with padding that provides heat as well as protection.
Take a Break
Every couple of hours, take a break. Skiing is not only tiring but you will also need a hot drink or snack to top up your energy levels. Going into a warm cafe for a hot chocolate will warm your body up and might even give you a chance for shelter from any snowfall.
It's best to go skiing when it is a sunny day as this can also keep you warm. If your clothes aren't windproof and you are on the slopes on a blustery day then you could also feel colder than usual.
After Skiing
Allow yourself to thaw out! You might be warm from all the activity but keeping cosy at the end of the day is just as important so make sure you stay wrapped up, get plenty of rest and lots of hot food and drinks. By looking after yourself both on and off the slopes you can keep yourself warm and healthy so that you can enjoy skiing as much as possible!