With Christmas and New Years around the corner, many marketers and business owners are worrying about how to find time for a well-deserved break without letting their marketing efforts slip. Luckily, there are several ways to ensure you don't skip a beat while you enjoy the holidays.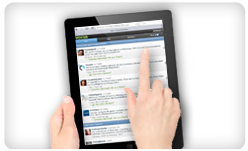 Here are some tips for marketing when you're not in the office.
Use automated services
Services that allow you to pre-schedule the distribution of press releases, tweets and Facebook posts – like the Vocus Marketing Suite, for example – are easy to use and affordable. Simply pick the date and time you want your content to appear, and with a few clicks it's ready to go!
Mobile apps are your friend
There's pretty much a mobile app for anything these days, and plenty that can be downloaded to your phone or tablet to help keep things "business as usual" while you're out of the office. This includes blogging apps, Twitter, Facebook, and more. If you run out of time before you head out on vacation, or simply find yourself on the go a lot, you can still keep the content coming and no one will know the difference.
Delegate
Empower one of your trusted staff members to manage certain pieces of your marketing communications while you're out. If you're used to doing most of the work yourself, why not let someone else give it a try and see what they can do with it? As long as you give them some parameters, your readers would probably enjoy getting some perspective from another voice in the company.
Combine your efforts
If you've pre-scheduled your press releases, tweets and Facebook posts, you should also have your blog ready to go as well. This means scheduling its distribution while you're out – and then using those previously scheduled tweets and Facebook updates to promote it!
A little pre-planning combined with a willingness to take advantage of all the automated marketing tools out there will make it easy to organize marketing efforts before you take off – and help you enjoy some much-deserved time off!