Did you know it costs you almost 6 to 7 times less to make sales to loyal customers compared to acquiring new ones? Yes, that's true. Loyal customers will keep buying from you, but you have to do a lot of marketing, probably make investments to acquire the new ones.
The investment is not only in terms of money, but you also end up spending a lot of time too. In order to create loyal customers and get them coming back, you need to deliver quality which means the quality of products as well the quality of shipping has to be high (if applicable).
Your product description has to be striking and must specify how your product can benefit the buyer. Using attractive images is another way of grabbing the attention of the buyer. However, what really makes a customer come back to you, again and again, depends on the experience you give them.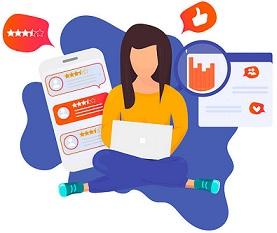 When they find your product useful and are satisfied with the shipping experience, the chances of them turning into your loyal customers are quite high.
It gets even better when they get good customer service from you. In fact, as per a survey, it is seen that 75% of customers turn into loyal customers when they get a reasonably good customer experience.
Thus, right from the product listing to the delivery and usage, every single step is imperative in turning customers into loyal ones. You have to build a strategy to make customers purchase from you repeatedly and not fall for other competitors.
While this was just an overview, here are some tips you can follow to attract customers to keep coming back to your brand.
Ways to Keep Customers Coming Back
1. Tempt them to make the next purchase
If the customer loves your product, he would definitely trust you. However, he may not shop until he has a requirement. On the same verge, if you make an excellent offer for his next purchase, you are likely to get your customer back.
For instance, you may offer them free shipping on their next purchase, some discount, a customized offer, or probably a buy 1 get 1 free offer.
Also, decide a date for this offer so that you assure the customer comes back soon. This allows you to gain more credibility and earn customer loyalty.
2. Go beyond selling
Try to offer something that will benefit customers after sales such as assistance to use the product for free, warranties, etc.
For products like televisions, sound systems, desktops, mobile phones, you can either give them a set-up guide, or if the customer is within your reach, you could send your employee physically for set-up.
Furthermore, offer your customers a warranty for a stipulated time period. This gives the customers a sense of security when they buy your product.
Thus, in the product description, clearly write what you will offer after the sale. Make sure your product listing page follows SEO best practices for maximum sales and exposure.
3. Connect consistently
This is one of the most critical segments of marketing. You can send regular reminders, not too frequently, about your latest offers, promo codes, etc.
Let them know about your limited period sale and new products. When we talk about keeping the customers coming back, you could send a voucher or a discount code with the product that they may use on their next purchase.
You can also connect to them via social media platforms. Having your company/brand Facebook page is a common practice to put together your customers and potential buyers.
Here are a few social media tips for your e-commerce website.
4. Go beyond customer expectations
Sometimes a direct connection or a personal link with the customers is a great way to go beyond their expectations. If the customers are within your geographical reach, you could probably host some events with competitions and exciting prices.
If you are selling through popular platforms like Amazon, you could get the tag of ' Fulfilled seller on Amazon.' Make sure you have a product description and the product image that precisely is what the customer will feel after using it.
Moreover, be open to refunds, exchanges, and other issues. A great customer experience is the only secret to moving beyond customer expectations.
5. Match the price offered by your competitors
Check for the price your competitor has listed and find out if your pricing is higher or lower. You could try buying their products to see how yours differs in the quality of theirs.
If not feasible, you could check for the customer reviews to identify the quality. You will know if its price is worth it and also be able to comprehend if you can offer something lower than the competitor's mentioned price.
Make sure you do not get too low since it depicts low quality. If you do not have many customer reviews, you could offer your product at a little lower price.
However, if you have reviews, probably people will prefer you over your competitor. Lowering your rate will maximize your sales and ultimately your profits.
In addition, keep yourself updated with the latest e-commerce trends. It might be possible that your competitors are offering way much better than you are. So, it is time you start keeping an eye on them.
Conclusion
For every business to flourish customer retention is extremely important. As you have seen, it is much easier and cost-effective when compared to acquiring new customers.
Bear the basic ideas in mind such as grabbing the attention of buyers, going the extra mile to win repeat customers, and following up with them consistently.
Knowing your competitors inside-out can also be beneficial to a great extent. By following all of these, you can undoubtedly exceed your customers' expectations.
On another note, selling on Amazon is one of the best options to acquire loyal customers since they trust the platform in itself.
P.S. - You could join the Amazing Selling Machine (ASM), a training that gives you all the learning about different strategies to grow your business at Amazon. In addition, check out the perfect Amazon seller tools to make your Amazon selling smoother.