Email marketing is an essential part of modern marketing. While digital space is full of endless marketing opportunities, email marketing gives us tools to execute our plans and achieve goals.
With time, it is getting more and more challenging to have a successful email marketing campaign. Some even believe that it has reached a saturation point and no longer relevant. But if you are doing it right, email marketing can get you valuable leads and increased sales.
After all, it is still one of the most effective online marketing strategies today. So, here are the 11 email marketing tools every marketer needs and should use for successful marketing campaigns.
Email Marketing Tools
1. Mailchimp
Mailchimp is one of the leading email marketing platforms out there. Started as an email marketing tool, the platform is adding new features and expanding to an all-integrated marketing platform.
Mailchimp's latest features include SMS marketing, website hosting, and design. However, traditional services such as email marketing campaigns, email builders, A/B testing, and survey creation are still available.
Mailchimp can be easily integrated with CRM and social media channels. This tool is pretty flexible and you simply cannot go wrong with it.
Their new additions are a big plus because you are getting many marketing tools in one space. Through Mailchimp, you can track and segment your audience easily.
And, on top of all, their free plan (for up to 2000 contacts) is an added opportunity for start-ups and small businesses. In conclusion, compared to other autoresponders tools, their offer is really good.
Moreover, you are not only getting services at a lower price, but new features are available within the existing plan. You don't need to pay extra.
Pros
Cons
2. HubSpot Email Marketing Tool
HubSpot is a huge platform uniting different hubs. If you are a HubSpot user, it is very convenient for you to start email marketing with them. You can easily integrate email marketing with other services.
As a HubSpot user, you will have endless opportunities. You can use customization and different integrations. Above all, this tool is very flexible, and creating emails is easy. You can build professional-looking emails with the drag & drop function.
However, HubSpot is a relatively expensive marketing tool on the market. Their advanced plans, professional and enterprise, come with nice perks but are best suitable for bigger companies.
Also, their free and starter plans do not deliver benefits that are relevant to the price. The free plan is very limited and does not include A/B testing.
Therefore, if you are a beginner, Hubspot is not the right tool to use. On other hand, for professionals, this can be a very good platform for marketing campaigns.
Pros
High-quality customizable email templates
Integration with other HubSpot services
Included CRM integration
SEO tools integration
Cons
3. GetResponse
GetResponse is one of my favorite email marketing tools. They have many email automation and marketing tools that make it easier for the customers to get everything in one place.
Mostly, GetResponse is well-known among online marketers. This tool is highly appreciated because of the willingness to continuously improve. They introduced the Live Chat function not long ago and expanded the scope of their business even more.
GetResponse has a very good automation system. They offer different templates, and various features you can choose from. The main features of this email marketing tool are email creation, sign-up forms, landing pages, and live chat.
The platform also provides analytics tools. Also, there are conversions through e-mails and landing pages. Additionally, GetResponse features a CRM tool. Overall, it can work as a customer relationship management system.
Additionally, the tool has a very advanced autoresponder tool which is basically GetResponse's one of most valuable features.
Pros
Cons
Lack of customer support
Emails sometimes land into the subscriber's spam folders somehow even if the score is good
Importing an email list is full of hassles. Even if you have a genuine list, you are prompted saying "list is similar to another customer".
4. SendinBlue
SendinBlue claims to be the smartest and most intuitive platform for growing business. Maybe it is not the very best, but it definitely deserves a top spot among the best email marketing tools.
SendinBlue is specially created for small and medium-sized businesses. Therefore, it offers various features with more affordable pricing. You might even be surprised by the number of features SendinBlue offers.
First of all, the platform offers everything you need for your email marketing campaigns. The automation is smart and they have a high-quality triggering function.
SendinBlue's key features include email creation and automation. They also offer email campaigns and broadcast, A/B testing, and SMS function.
One of the biggest competitive advantages is pricing. SendinBlue will not charge you according to the number of contacts. Even with the free plan, you can have unlimited contacts.
This marketing tool is very affordable compared to the benefits you will receive. So, if you are managing marketing for small and medium-sized businesses, SendinBlue is it!
Pros
Plans are more reasonable
Email automation according to customer behavior on the website
Amazing list segmentation and filtering system
No limit on the number of contacts
Cons
Importing data is a little challenging
A limited number of integrations
A limited number of email templates
Poor email deliverability rate. Emails sometimes reach subscribers way too late.
5. MailGenius
MailGenius is known for its main feature - Email Spam Checker. And this is the only little part of the benefits this email marketing tool brings.
MailGenius helps you find out if your emails are going to spam and why? It also guides how you can improve your email performance and deliverability. Moreover, the tool makes sure that your emails end up in the right place and not in the spam folder.
On top of that, it is compatible with any major email service providers such as Gmail, Outlook, Mailchimp, Salesforce, HubSpot, and more.
The main feature of MailGenius is email testing. Also, this tool offers subject line and link assessment. It also provides domain audits. Overall, this information will give you chance to improve your email marketing efficiency. As a result, the delivery rate will get higher too.
Pros
Cons
The website is sometimes confusing to use
Data analytics and statistics needs improvement
Changing email templates takes you off the track sometimes.
6. Constant Contact
Constant Contact is an email marketing tool that has been on the market since 1995. This email marketing tool is very easy to use. It offers a user-friendly dashboard with an appealing interface.
With Constant Contact, you can build emails, create campaigns and track them. The platform is trying to expand beyond straightforward email marketing. So far they have added social media marketing and website builder. It also features contact management and online stores.
Constant Contact is especially focused on the development of services for E-commerce websites. Each main feature consists of services that are aimed for e-commerce development: Online store creation, shipping management, transactions, coupons, etc.
The platform also offers integrations with Google. They have a tricky pricing policy, compared to the others. The pricing depends on the number of subscribers. For this reason, it is an expensive marketing tool.
But within the number of subscribers you have, you can send an unlimited number of emails. If an increasing number of subscribers is not your goal and you just want to communicate with a certain number of people very often, then this could work.
Pros
30 Days Free Trial
Simple and very easy-to-use platform
Amazing email automation features
High email deliverability rate
Fantastic customer support
List segmentation options are vast
Incredible tracking and reporting
Cons
A little expensive but can still be a winner
Poor support when it comes to cancellation and refunds
Limited integrations and email customizations
7. MailerLite
MailerLite is an email marketing tool created in Vilnius, Lithuania. The main features of the platform include - email campaign management, email automation, website creation, pop-up management, and A/B split testing.
MailerLite offers a flexible email builder with nice templates. You can enjoy a wide range of free newsletter campaigns, build surveys and create pop-ups.
The platform offers you every necessary email marketing tool in one space. In addition to traditional email marketing features, MailerLite has options to build websites and landing pages.
One of the favorite features among users is the segmentation of existing contacts. MailerLite is really easy to use but very efficient. This marketing tool is perfect for small businesses and freelancers.
Pros
Cons
8. Campaign Monitor
Campaign Monitor is an email marketing tool especially marketed for small and medium-sized businesses. This tool boasts high-quality automation and tracking.
The main features of Campaign Monitor include email marketing campaign creation, email building with drag & drop, contact management and segmentation, analytics, and more.
The platform helps you create more personalized emails with various templates. They have a newly added link review tool. This feature helps marketers send emails directly to the inbox. Link Review will check the hyperlinks and let you know if any links are broken.
Campaign Monitor has integrations with Google, SalesForce, WordPress, WooCommerce, and more. With this email marketing tool, you can create sign-up forms and create transaction emails.
Pros
User-friendly interface
Wide range of email templates and web-friendly fonts
Excellent list segmentation options
Email automation is superb
Great tracking and reporting system
Link Review tool notifies missing or broken links in an email
Various integrations
Cons
9. LeadPages
Again one of my favorites, LeadPages is an amazing lead generation platform and landing page builder. This tool is mainly marketed to small and medium-sized businesses.
LeadPages features various landing page templates that can be easily edited by a simple drag and drop function.
For email marketers, LeadPages is a very good tool because it offers integrations with most of the email marketing platforms: MailChimp, SendinBlue, Gmail, MailerLite, GetResponse, Constant Connect and etc.
If you are using email marketing daily, with LeadPages you can create high-converting landing pages. Moreover, using this tool will make your email marketing campaigns more efficient. It is a must-try tool on the market.
P.S. - It is not an email automation software but a lead page builder platform. You can create amazing landing pages with email opt-ins, pop-ups, and alert bars. You will need an email autoresponder tool in addition to LeadPages.
Pros
Cons
Limited customization options however enough
Price may seem higher but worth the features, integrations, and templates it offers.
Litmus is a perfect email marketing tool if you are working with a big team. This email marketing platform provides various features that will improve your digital marketing performance as well as project management.
Litmus basically is an email preview and analytics tool. This tool is brought by Campaign Monitor. Litmus is known for its high-quality analytics and testing.
It has a simple project view that helps users increase the workflow and manage everything with one application.
Through Litmus it is easy to collaborate with your team, see everything in real-time and check on updates. This tool is used by leading companies all over the world. Some of Litmus' top clients are Samsung, BBDO, Monster, Zapier, and National Geographic.
Litmus has various integrations to make sure you are doing your work efficiently. You can integrate it with ESPs, Slack, Google Chrome, Trello, SalesForce, Hubspot, and more.
Pros
Cons
Email preview loading time could be improved
Chrome extension needs an update
Cost is way too high for beginners, start-ups, or even small-size businesses.
11. OmniSend
OmniSend is an email marketing platform that focuses on e-commerce companies. The main features of OmniSend are email marketing and automation. In addition to this, the platform offers SMS marketing, form builder, and pop-up creation.
OmniSend's competitive advantage is its customer intelligence. They provide advanced retention and product analytics. This email marketing tool is designed for e-commerce brands and every new feature is created especially for them.
In addition to that, OmniSend has flexible plans and a pricing policy. If you are a beginner, you can make good use of the free plan. The free plan lets you send 15,000 emails per month. This is a very good benefit. And with the Enterprise plan, you can get custom pricing.
Pros
Cons
Conclusion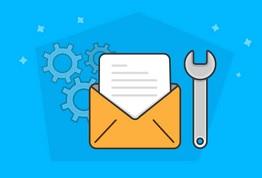 Email marketing still stays one of the effective ways to reach your customers and potential buyers. The tools mentioned in the article definitely deliver unique value and give you the means to achieve your email marketing goals.
However, be reasonable when you choose the ones. You must be clear about what your goals are and what exactly your email focus is on.
If I were to suggest then MailChimp, GetResponse, LeadPages, Litmus, and MailGenius are a must-try. To be more precise, for email marketing automation, GetResponse and MailChimp are the best. And, for creating beautiful email templates and landing pages, LeadPages.
Overall, the key is to have a strong strategy and have necessary skills to achieve your goals. In addition, if you want more information, there are a handful of articles about email marketing.
Also, make sure you through the essential email marketing best practices.