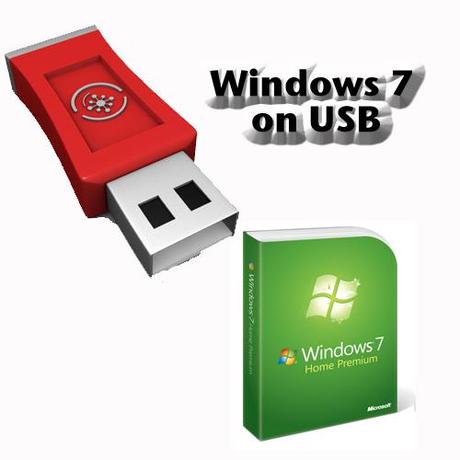 Installing Windows 7 from a USB flash drive instead of using a DVD is more convenient and faster than using an optical drive. also if you own a notebook with no CD drive on it, and you want to install Windows 7 on it, your going to have to either buy, or borrow a portable CD drive, or install it from a USB drive.
Some people will tell you that to make a bootable USB drive for Windows 7 is not an easy task, so I am going to show you how to do it in just a few simple steps, and let you be the one who decides how hard it is.
The first thing you need is a good sized USB Flash drive, I would recommend at least 8 gig to get the job done. So here we go.
Make sure that you have administrator privileges, then open the command prompt by clicking the Start button, type cmd into the search box then press Ctrl+Shift+Enter.
Once your at the command prompt, type diskpart to enter the diskpart utility.
Next at the DISKPART> prompt you need to type list disk.
Type select disk 2. If you look at the screen shot bellow, my USB drive is disk 2, you will need to select the drive that relates to your USB.
Type clean to clean the USB flash drive
Next, type create partition primary
Then type active to make the partition active
The next thing we have to do is type format fs=fat32 quick. This will quickly format the USB flash drive in the Fat32 file system.
Type assign, this will make Windows assign a drive letter to the drive, then type exit to leave the diskpart and exit again to close the command prompt.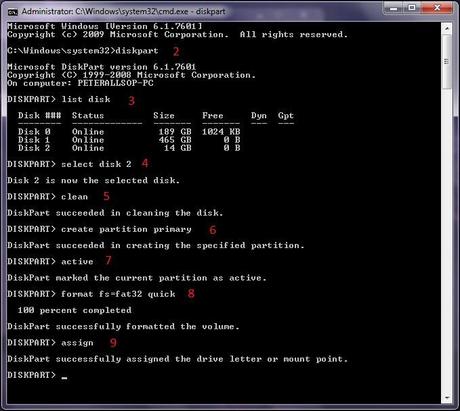 The last thing to do is insert your Windows 7 disk into the DVD drive and copy all of the files onto the USB flash drive.
Once all the files have been copied over onto your USB flash drive your ready to go. Just make sure that the BIOS is set to boot from the USB flash drive first.
Please subscribe to this blog for regular updates.
If you have any comments to make or would like help with anything on this post please visit our 
Forum
 and I will try my best to help