Insert SIM card in Apple iPad
Few days back I faced one problem regarding inserting SIM card in Apple iPad. Then the fact came in light that the iPad uses a different SIM card which is much smaller than the normal SIM card and called micro SIM card. In UK these SIM cards are provided by Vodafone, O2 mobile, Orange and 3mobile.
SIM card is inserted into the SIM card tray of the iPad which is available on the left side of the iPad. Follow these steps if you face any difficulty while finding the SIM card slot and inserting SIM card.
1. SIM card tray is available on the left side of iPad which has to be taken out using SIM card ejecting tool (comes with Apple iPad kit). To take the tray out insert the sharp end of the SIM ejecting tool (a pin) in the small hole which is near to the tray.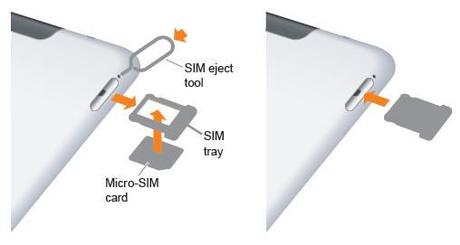 2.  While inserting the SIM ejecting tool make sure the tool is straight and press firmly and gently so that the tray pops out completely.
3. A paper clip can also be used for ejecting the tray if you have lost the ejecting tool, but should be done once you are sure how to do this.