Most car trailering situations may require 4 main components: the hitch, the trailer axles, suspensions & a hitch ball. Before you drive a car trailer, you have to inspect major components including them. Proper inspection and maintenance help to enhance the trailering experience. In this blog, we are going to discuss major facts about how to enhance towing capacity on your car trailer.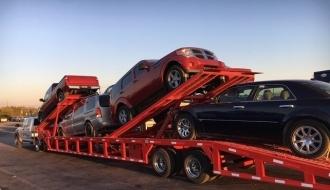 Looking for a Car Hauler Trailer? Call Infinity 1-806-655-5500
Form an X-shape: You can set a chain under the car trailer hitch and then form an X-shape for better grip. The chain gives extra support and it keeps the trailer from skipping the careening or guardrail. It will surely give you better driving performance and excellent towing support. 
Upgrade trailer braking: Upgrading the trailer braking system is another essential way to enhance the towing performance of a car trailer. Whether you use 4 car haulers or 5 car haulers, they consist of heavy-duty axles and chassis. As the result, controlling the speed of a heavy-duty car trailer can be challenging. So, the braking system should be proper. Over time, the brakings start showing warning signs due to lack of maintenance and age. So, the entire braking system should be inspected and the faulty parts must be replaced as early as possible.
Replace trailer axles: Even with high torque as well as horsepower, if the trailer axles are not able to control the entire loading capacity, you can not drive the trailer properly. To fix this, the existing trailer axles should be replaced with the heavy-duty axles. HV trailer axles do not only provide better torque but they also give good driving experience. Apart from that, heavy-duty trailer axles are ideal for rough terrains or rough roads.
Upgrade suspension: The suspension is one of the major parts of car trailers. An up-gradation of trailer suspension helps to give a jerk less towing experience. The suspension system holds the overall trailer weight and helps to distribute weight properly. The high-quality suspension system provides a smooth ride as well as better steering control.
What to check in a car trailer?
A car trailer comes with a number of components and semi components. To enhance the performance, experts suggest checking the following trailer components on a regular basis.  
Tandem Duals with Hydraulic Brakes 
Tires and wheel rims
LED Lighting and electronics
Aluminum Cylinders for upper decks 
12 volt battery 
Spare Tire & Holder
Single Acting Hydraulic Pump 
Flat Pin RV Plug
Cylinders for Hydraulic Ramps
Periodic maintenance helps to increase the towing capacity on your car trailer. To avoid any kind of hassle, always check the components before you load the trailer.