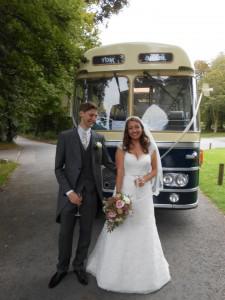 I have just had the best, most wonderful day of my life – my daughter's wedding. As ever, it provided me with valuable lessons for your creativity and innovation which I would like to share for anyone planning, or involved with their own wedding – plus they make good general advice anyway.
We were graced with many unsolicited comments of 'best wedding ever' and even an 'awesome day' from an American guest.
Here are nine lessons from my 'awesome' day.
1.    Be resourceful
As a general rule it is going to cost an arm and a leg, and whatever you budgeted for – even with the strictest financial controls (i.e. me) it will always cost more.
So seek to make good budget savings without compromising quality. Guests at our wedding enjoyed fine Champagne, Cava and wine – but oblivious to the fact that it had been in my garage for nine months! We heeded good advice from a friend in the trade to take advantage of pre-Christmas drinks offers from supermarkets. Even with a rip-off £9 corkage charge – we still saved a considerable amount. And it was lovely.
2.    Use your networks
From the best man's girlfriend being a graphic designer, another friend baking heart-shaped Welsh cakes,  to an old university friend having his own ethnic Mongolian Yurt (more about that later) we were able to enjoy their additional generosity to make things happen superlatively. What network contacts can you harness?
3.    Do it from your heart
My little girl was going to have the best wedding ever. That provided my criteria for saying 'Yes' and 'No'. The passion saw us through any hassles, hold-ups and heartaches in preparing for the Big Day. What is the passion that drives you? When does it say 'Yes' and when does it say 'no'?
4.    Be iconic
What will people remember from the day? Usually, there is one thing that sticks in their mind as 'that was a good idea'.
The previous week to the wedding I'd been at a friend's anniversary party where they had a life-size cut-out of their wedding photo, produced by a mutual friend. (Refer back to point 2 about using your networks.)
I thought wouldn't it be great to have something like that for Charlotte and Tom's wedding – but not just recording the wedding after the event but at the wedding itself.
Impossible you might understandably say. But never say 'No' to a Green. (The creative family motto)
I then devised a plan:  I would get two people to take photos using their mobile phones of the wedding couple as soon as possible at the church. (I thought of using two, just in case one had a problem – and I was right, as one couldn't get a signal to send their pic.) I had our friend on standby to receive the pics and turn them into a life-size cut out. Another friend kindly picked it up and delivered to the venue. (See point 2 again.)
The look of astonishment on my daughter was worth it. Every guest loved it. Those in the media business scratched their heads wondering 'How did he do that?' The cut-out even appeared with the band and in various dances!
I reckon we now have set a new benchmark for the highly competitive worlds of weddings, as word of mouth spreads of 'You should have a life-size cut out at your wedding'. My friend also has a new business idea: this time next year he might be a millionaire!
5.    Trust your instincts
Following on from passion, use your intrapersonal skills to listen to your self and ask: 'Is this right?' Ignore others who give you advice you don't feel is right. (But always entertain and listen with an open mind.)
6.    Partner with others
Ideally work alongside those with stronger and more powerful resources to partner. In our case the two iconic venues: St. Illtyd's Church Lantwit Major – in my opinion Britain's oldest university and St. Donats Castle – a wonderful historic home transformed by William Hearst offered phenomenal venues and back-drops to the day, literally providing an historical element to an historical day.
Who else can you partner with?
7.    Not one size fits all
I lecture on the need to offer an 80:20 response to any situation – 80% of your time, resource, energies you cater for the majority, 20% you cater for the different.
The idea of a Yurt at a wedding was just to add an alternative idea, a whimsical fancy being able to realize from having a friend who had one along with a fantastic lawn setting next to the Castle.
In a million years I would not have thought of this dimension: some people did not appreciate the loud music of our brilliant band 'The Solicitors' featuring the King of Northern Soul, Mr. Bobby Thomas (check them out http://www.the-solicitors-band.co.uk/  )
I felt obliged to at least check the Yurt out: to my astonishment I met two women who politely requested for me to not interrupt their meditation!
So, we now offered a wedding that had a loud, raucous party combined with meditation in a Mongolian Yurt.
The lesson here is to go with the flow, and accept and gain from the unexpected.
8.    It's in the detail
My daughters and wife went to extra-ordinarily lengths to the small details. And it's proved itself on the day.
What are the small details you need to take care of in your work?
9.    Enjoy it!    
I had one best advice in preparing for my father-of-the-bride speech (which did go on for 20 minutes and ended up with a chorus of 'You'll Never Walk Alone' – the groom is perfect with one exception, he supports Liverpool FC). The advice was simply: 'Enjoy it!' I think I followed that guidance and seemingly others enjoyed it too.
You need to enjoy what you do – it creates your rocket fuel to make the impossible happen.
10.    Leave a legacy
I now know how Olympic Gold medal winners or record-breakers feel: I have something that no one can take away from me: thanks mainly to the phenomenal hard work of the bride, my wife, the chief bridesmaid (my younger daughter Lizzie) and others – we had the best wedding day possible. And no one can take that away from me.
Charlotte and Tom, have a healthy and happy life together.
(There's more about the wedding on Facebook and more about creativity and innovation at www.andygreencreativity.com