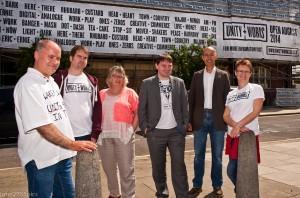 GREEN Communications has been appointed to deliver PR consultancy services to Unity Works, Wakefield's new vibrant entertainment, leisure and work space, will officially open this month.
On Friday, September 5 more than 300 shareholders in the community co-operative will get a preview of the refurbished city landmark, after nearly 12 months of refurbishment work, Unity Hall, one of Wakefield's oldest entertainment venues, will throw open its doors for the first time.
When Unity Works acquired the derelict Victorian property it had been empty for more than 15 years and the roof was in danger of collapse.
To mark the occasion, Unity Works will unveil a special sculpture designed by United Creatives incorporating 375 drum sticks – each embossed with name of each shareholder in the co-operative.
Unity Works chief executive Mark Taylor said: "This art work represents what Unity Works is all about – a community or union of people who have come together with the shared vision of creating a thriving arts and business hub in the center of Wakefield.
"Unity Works will be open to all residents of Wakefield and beyond offering a wide range of entertainment and arts events including music and exhibitions as well as acting as a venue for conferences, meetings and weddings."
The drumstick sculptural installation in the foyer entrance area will be suspended from the ceiling in the form of a rippled sound wave as well as wall-mounted 'armory' of 5,000 drumsticks.
Unity Works, opposite the Theatre Royal on Westgate, is a grade II listed gem, has been used and loved by the community since it was established as the Wakefield Co-operative headquarters in 1867.
It is owned by Unity House (Wakefield) Limited, which was established as a community benefit co-operative in 2011 to turn the building into a major music venue, conference center and location for creative businesses. It has 375 member investors and has raised £4m to purchase the building and refurbish the property to the highest standards.
On Saturday, September 6 Unity Works will host its first open day for the general public from 10am to 4pm. During the day visitors can listen to local bands, join in crafting activities and view art from local artists in the Unity Arts permanent gallery.