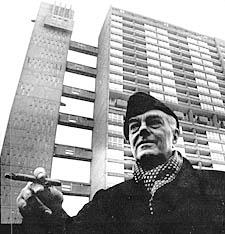 I'm keeping my fingers crossed and hope I can get closure on something that has been painful to me for nearly 40 years
My daughter alerted me to a web site and programme about Balfron Tower, Poplar. Youmay  be familiar with Trellick Tower, the large futuristic tower block on the way in to Paddington Station, in Chelsea, which because of its West London location, tends to get more PR.
If you ever drive through the Blackwall Tunnel, Balfron is the enormous block of flats on the northern side. (My mom used to say to me that "I had a mouth as big as Blackwall Tunnel!")
But Balfron Tower was the first of the Erno Goldfinger listed tower blocks – and the best in my opinion – because we were one of the first families to move in there when it opened in 1969, and I grew up there.
I have made a special request to the organizers and it could make an old man very happy!
As a kid I remember seeing Erno Goldfinger the famous architect who lived in his creation in the early days, go shopping up at Chrisp Street market. (There was a story that he once upset the James Bond author Ian Fleming and in retaliation he named one of his villains after him!)
My mom used to go out and clean up the rude graffiti on the stairs, not wishing me to see such filth, not realizing it was actually me and my mates writing it!
We used to live on the ground floor and witnessed all sorts of things thrown over balconies. We even once found someone's dead pet ferret!
I last saw my home at 3 Balfron Tower when I went away to Swansea University in 1978. (I was a pupil of George Green School and one of the very few people in the East End in those days to go to university – you are talking about no more than two dozen or so kids across the whole East End going.)
While at uni I was having a great time and was a bit remiss in keeping in touch (this was before the age of mobile phones and internet). So, I may not have rung home for a few weeks. The day I did, my mom said: "Just as well you rang, we're moving tomorrow". She wasn't lying, they did move and I never ever did a get a chance to say 'farewell' and see the old place for a last time.
For nearly 40 years I have not had any closure on this – but maybe now there a chance.
There is a special programme of exhibitions and open houses – called Balfron Season  while a major refurbishment is carried out. Check out their fantastic
It looks a fantastic programme they are running. Good luck with it.
I now live near Cardiff, on Barry Island (I'm a real-life Gavin & Stacey having married a Barry girl) but will come down for a special trip not just down memory lane but to make the final farewell I never had the chance to do.
Hope they can help me.