Summer is finally here and there is nothing like having an impromptu picnic in your backyard or in your neighborhood park. I chose this big hydrangea bush in my front yard as my picnic spot- not only did they make a pretty backdrop but also served as my sunbrella.  Anyways, I love a good summertime picnic and when there is all my favorite food, in short all sorts of carbs- I'm on cloud
nine
 carb.
I usually don't eat pastas and sandwiches much, but when it comes to picnic food, nothing is more satisfying than a sandwich, pasta salad and a glass of my favorite chilled beverage. Talking about which the only sugary drink that I bring inside my house is
this
mango juice from Costco. I am a mango-lover and when there is mango season in India, it is mango juice season in my household, cuz
this
one tastes as good as a fresh mango straight off the streets of India.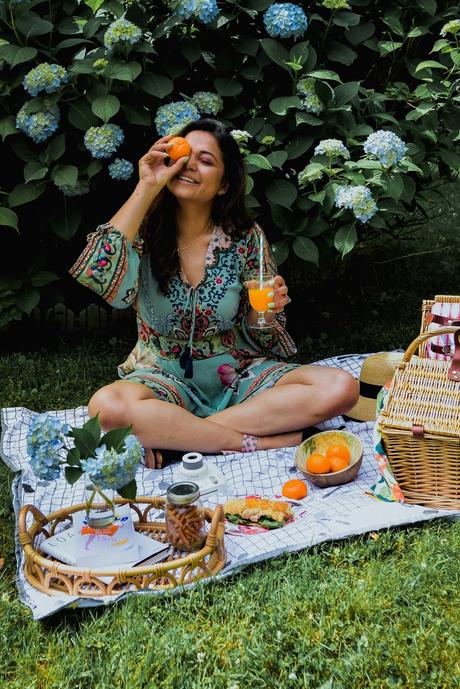 ANTHROPOLOGIE
romper ( buy same ) //
PICNIC BASKET
( buy same ) 

JavaScript is currently disabled in this browser. Reactivate it to view this content.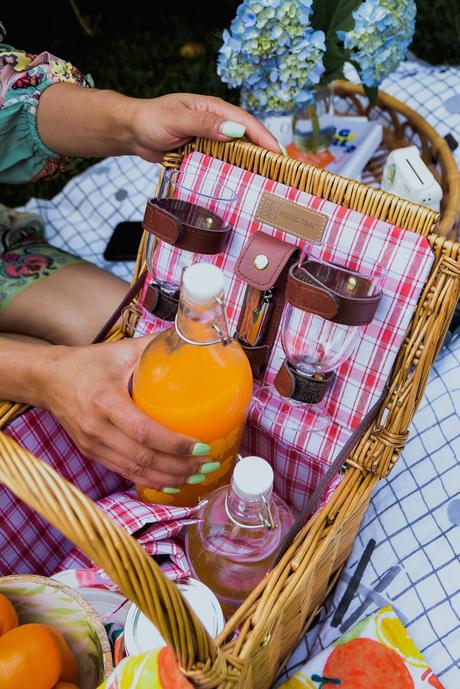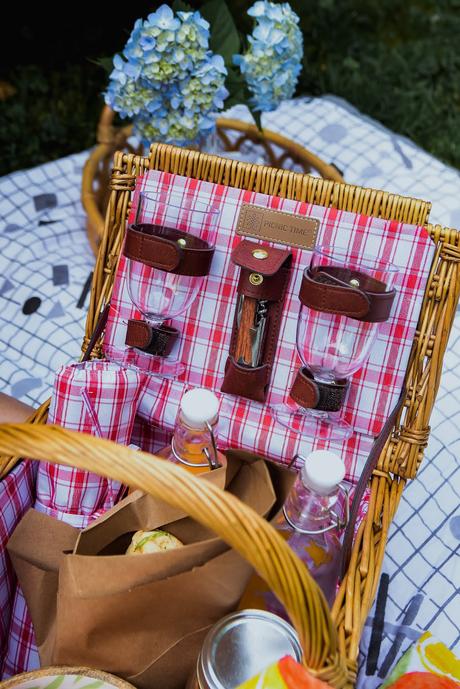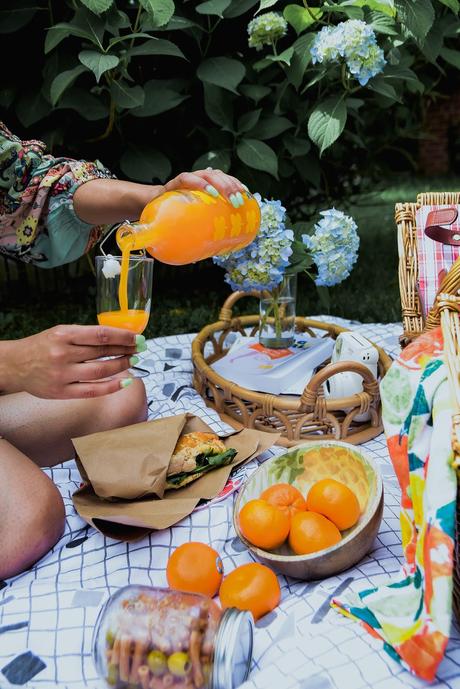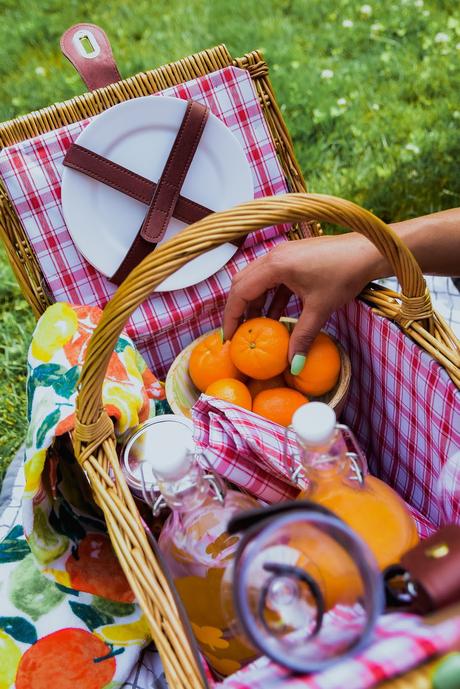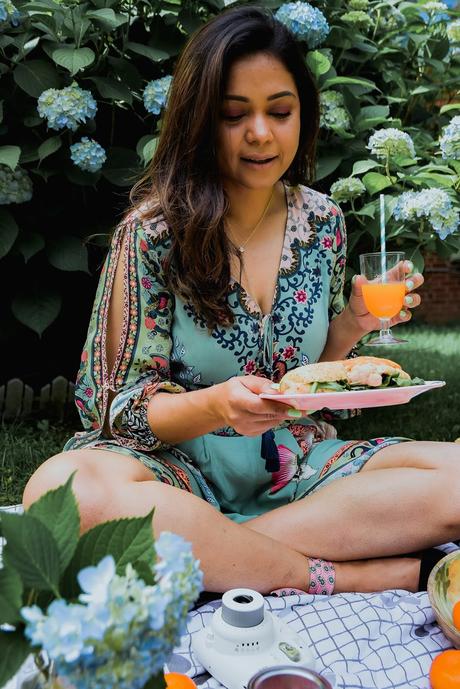 Add caption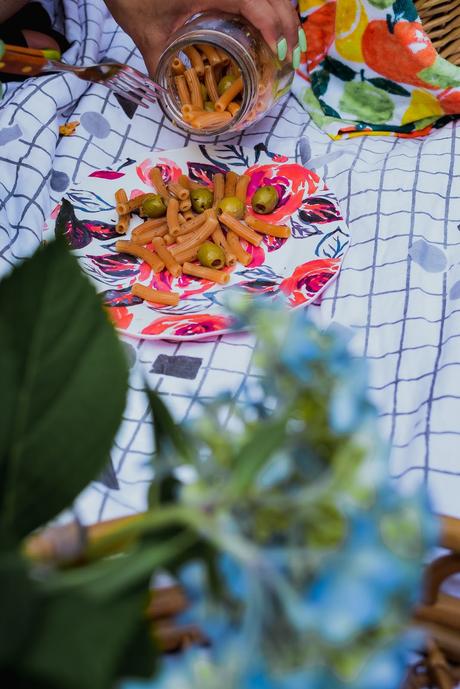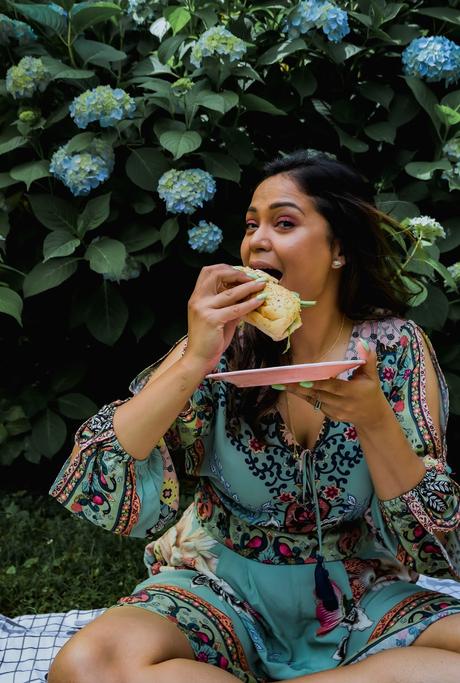 Okay, enough of the juice-talk, let's talk about the essentials you need to pack for that perfect summertime picnic.
The quintessential picnic basket
I had been on the hunt for picnic basket that was fit for two and was compact yet roomy. I looked everywhere, but they were either too big or too pricey for a picnic basket. Of all the options my search ended with
this one
from Amazon- you rock Amazon! This particular wicker picnic basket comes with it's own plates, silvers and glasses for a party of two. But there is enough room to pack a few plates to feed more guests.
The picnic mat 
Believe it or not, my picnic mat is just a thick bed throw that I bought in India a couple years ago. I have other picnic mats that are so hot realistically that my legs start to sweat whenever I sit on them. So get something more breathable, a cotton or linen option would be ideal.
The food 
The food is the highlight of any picnic. For me it's all about carbs when on  a picnic. Sandwiches, pasta salads, cole slaw, chips and dip, cheese, crackers, fruits, crunchy-veggies and all finger foods make the most desirable picnic basket food items.
The drink 
Besides water pack all your favorite beverages- sparkling water, coconut water, orange juice are some of the beverages that not only taste good when consumed chilled, but they also keep you hydrated and high on electrolytes. They are the prefect thirst-quenchers.
The extras
This includes all that additional stuff that might not be on your list but you definitely need. Trash bags, paper napkins, hand towels, disinfectant wipes, bug spray, sunscreen, hat and all the must-haves that will keep you comfortable and protected outdoors.
The entertainment 
If you have kids in your picnic you better come prepared. Pack cards, flash cards, frisbee, badminton, skipping rope and all the high-intensity, fun games to tire them out. Otherwise, I prefer a book and my favorite pastime - my camera!
SHOP THE POST

JavaScript is currently disabled in this browser. Reactivate it to view this content.