Congratulations! You have taken the first step to saving your business time and money by implementing Fleetmatics GPS fleet tracking. You have a basic understanding of how to use the system, but you would like to get to know it a little better. What more can you do? While over time you will undoubtedly become a pro at using Fleetmatics, here are three things you can do to get started:
Sign up for Training Sessions
Call your account representative to schedule a free training session. Even though you have already gone through initial training, once you begin to use the system you may have a few questions. A good practice is to write down your questions as they arise. Then, our customer training representatives can book an hour-long training session to go over what you are still unsure of. Fleetmatics training sessions are always free and are a good way to refresh yourself on the system even if you are an existing customer.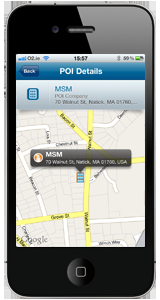 Download Mobile Apps
Did you know Fleetmatics is available on any mobile device? Fleet tracking is meant to make your life easier- now you don't have to be tied down to your computer all day to manage your team. Download the Fleetmatics app on your Apple or Android device and stay in touch with your fleet wherever you are.  You can run your business on-the-go: check Dashboards, track Live Fleet, view Route Replay, run Reports and more. Additionally, if you have Garmin integration with Fleetmatics, you can send new stops to Garmin devices.
Check out Fleetmatics in the Apple Store or the Android Market
Automatic Reports to your Inbox
Fleetmatics Reporting Suite offers many options to highlight the possible inefficiencies in your fleet.  During initial training, you may have learned about the Idling Report, which shows idling times for every vehicle in your fleet. Instead of having to manually log in and run the report on a daily or weekly basis, why not just set this report up to be sent to your email inbox? This way you can have the information sent directly to you and use your time focusing on your business needs. If any vehicle's numbers stand out, then you can go into the system and dive deeper into the report to see what is going on. A customer service representative can aid you in setting up automated reports.
Hopefully these three things will bring you closer to using fleet tracking to its full potential. If you are a current customer, do you have any advice for new Fleetmatics users?