Marketing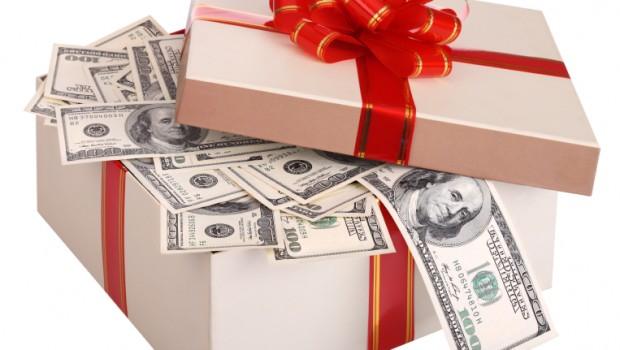 Published on November 30th, 2012 | by Lena Martin
1
How to Get More Customer Interaction This Holiday Season
It's that time of the year again when the weather gets colder, we haul our big box of Holiday décor back into the house, and, for whatever reason, people get this big urge to spend their money. This season is definitely a season for giving, and at the same time it is also a season for when businesses can whip out their Santa hats and start ho-ho-ing the influx of potential customers they are going to get with great Holiday discounts and deals. And so to get a healthy slice of the season's revenue pie, here are some tips to have a bit more holiday cheer for your business.
Go Modern
Living in a digital age, businesses now have a lot more tools to work with in order to capture the interest of potential clients.
• Customers will be tuned in to their phones. All over the world, there are currently 4 billion smart phones, 25 % of which are smart phones, and over 3 billion of which are text-enabled. It's a big but all in all unsurprising number, which just goes to show that if you do not already have some kind of mobile marketing plan for your business, there's no better time to start than now. This time of the year is when customers are on the lookout for good deals more than ever, so mobile marketing is a good way to keep your customers updated in real time.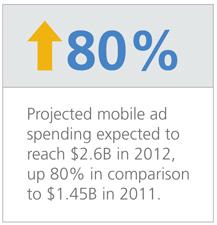 Statistics from: MerchantWarehouse.com
• Use social media both to advertise and to interact. If you're using that Facebook account in order to announce your special deals and offers for the season, then you are on the right track to successful social media marketing. Tha is only half the battle though, because if you really want to make the most out of your social media accounts, you not only have to advertise to people but interact with them more personally. Encourage people to talk, ask for suggestions, and most importantly, make customers feel that holiday cheer that would push them towards your store for a shopping spree.
• The early email gets the customers. There's no reason that you can't push out some early advertising for the holidays, and there's no faster and more convenient way to doing this than email marketing. Take out that customer database of yours and start sending your old customers special offers and ads, keeping note of the timing and making sure not to cross the line into spamming. If you do this right, then you will definitely get a line of excited customers when your doors open.
Be Classic
• Flyers. Compared to other printed materials, you could say that flyers are relatively easier, both to produce as well as to give out. In fact, they're so simple that you can even make them yourself using some simple tools. Flyers are good for getting a bit more interaction with people who would normally just pass by your store because it gives you a chance to strike up conversation about your products or promotions. You'd have to make your flyers very unique, clever, and beautiful, though, so that they just don't end up in the bin on the corner.
• Gift cards. These are probably the safest, least hassling gift to give out to other people. After all, who doesn't want free money or free stuff? With gift cards comprising 18% of the entire gift purchases during this season, these cards are definitely good to consider using for your own needs. As a small business owner you can actually try to approach a commercial printer (e.g. PrintPlace.com) and have some custom gift cards printed out, which you can then sell to confused customers who do not know the first thing to what gifts they want to give out.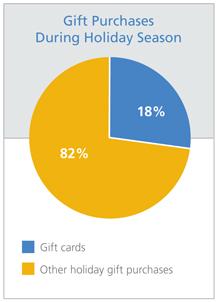 Statistics from: MerchantWarehouse.com
• Postcards. Definitely a classic alternative, postcards have been around for a long time bringing great business to whoever chooses to use them. Just as any other strategy, though, timing plays an especially huge role in the success of a postcard; it is actually a lot like email marketing, just in its more traditional, printed form. A well-crafted postcard with a good call to action will definitely get you some customers at your door when the time comes. And the best thing about these printed media is that online printers are also celebrating the season of giving by offering customers discounts as well! Popular printers like PrintPlace.com are even giving away free postcards and business cards in the spirit of the season. Talk about a win-win! You get cheap, maybe even free, postcards to lure in customers and make the sale. Sweet.
General Tips
• Plan ahead. Don't leave your marketing strategies until the last minute. That would definitely mean a lot of opportunities wasted because of your indecisions.
• Don't just keep on selling. If you keep on churning out advertisement after advertisement, trying to get people to look at your products and be interested, people will definitely get bored sooner or later. Stop trying so hard to sell. Establish rapport and everything will follow.
• Get into the spirit of the holidays. What perfect time to give back to the less fortunate than the holidays? This time of the year is the peak season for making sales, but it is also the best opportunity to spread a bit of holiday cheer around. Don't be stingy.
• Keep a smile on. There are just some days that customers are going to be cranky at best, even if there is a holiday going on. However, as someone who works in the service industry, you do not have the luxury of ever being rude or grumpy towards customers. Learn how to deal with bad customers instead and keep that smile on your face.
The holidays are the perfect opportunity for your small business to do some holiday branding and marketing, using many different tools and strategies. If you don't get it right the first time, don't fret too much because there's always next year, and you can always learn from mistakes in order to come up with an even more effective marketing strategy. Either way the holidays are now upon us, so cheers!