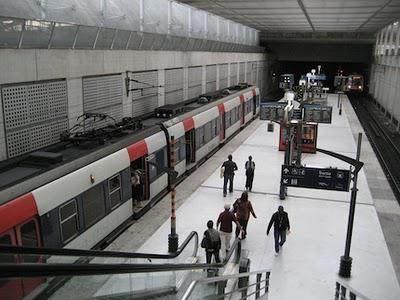 The subway line named RER B will get you started. I had to get from Charles de Gaulle Terminal 2 to the Luxembourg Metro Station.
The most excellent website parisbytrain.com helped a lot but it was really pretty simple. Charles de Gaulle Terminal 2 is the last stop on the line. You can only go one way.
After picking up your baggage, you'll see overhead signs saying "Paris by Train". Follow these to a main concourse leading down to the trains. Ticket machines are located there and on the left of the escalator is a bureau with real-live attendants to help you. ( It helps to do a bit of research ahead of time via ratp.fr 's very useful website to determine what you need).
With ticket in hand  - go through the turnstiles by entering your ticket (and retrieving it). The RER B train line runs north-south through the centre of Paris terminating at Orly Airport. You can only head one way - downtown.
I really recommend checking out the Paris By Train site.  It was a big help. Thanks to them for the above picture.
Bonne Chance!