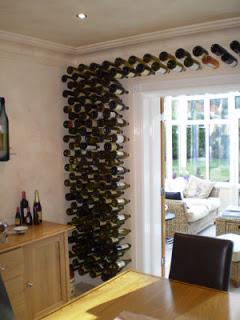 Custom wine racks are more than ideal for booze lovers, alcohol sellers and wine connoisseurs. They are individualised as well as unique and can be designed as per your requirements or the interior decor of your room. Besides that, there are plenty of businesses offering bespoke furniture in Berkshire who can prepare a personalised wine rack for you within your budget. But before you finalise your decision, it is imperative that you take into account a few essential considerations.


Prior to making plans for locating a suitable furniture maker and placing your order, make sure you are able to visualise the exact wine rack that you need. First of all, decide the room in which you are going to place the furniture piece. Carefully measure and note down the dimensions of the available space. Let your preferred firms specialising in bespoke furniture know about these elaborate details.
Next, determine the number of bottles and other things (if any) that you will store in your desired wine rack. Also take into account the size of those bottles. Be very specific about your requirement because racks may be designed for holding normal 075l bottles as well as magnums.



Once you are done finalising the basic specifications of your wine rack, start to decide the more elaborate ones. Fix an appropriate budget for the furniture. Also select the storage options that you want it to have, such as cubes, shelves or cases. Pick the composition material as well, such as oak or pine. Hardwoods like pine or oak are sturdier and more durable, which would ensure that your investment continues to serve you for a long period of time. Besides that, determine carefully as to what color should the finishing of your wine rack be. Finishing stains like cuprinol can protect your furniture piece from moisture, in case you are going to store it within a damp cellar.
When you are finished specifying the details pertaining to the design and construction of your wine rack, start searching for a reputed bespoke furniture maker in town who would be able to aptly transform your visualisation into reality. Be careful with your selection process and research multiple service providers meticulously. Obtain quotes & compare the rates, ask the professionals about their experience and also check the testimonials posted by previous clients on their business sites. But most importantly, do not compromise on quality for cheaper rates and a quick service.