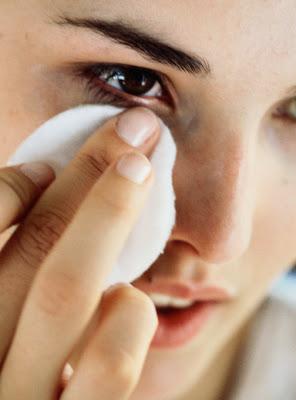 I have mentioned many times about the importance of removing makeup before you head to bed to keep your skin looking young. From liner to mascara and even eye shadow, getting it all off is essential to keeping your eyes healthy and free from infection. If you're scrubbing off to the point of losing lashes, it's time to take a more gentle approach to your routine. The skin around the eyes is very fragile and you will create wrinkles. We all know we do not need that look! We all have those nights when removing makeup before bed sounds like the world's biggest chore, but it's a must. If this is all new to you then I suggest makeup wipes. After all it is better then nothing at all. My favorite gentle wipes are Motive Wipes
http://www.motivescosmetics.com/product/motives-makeup-remover-towelettes/?id=01MEMT&skuName=motives-makeup-remover-towelettes-pack-of-30&idType=sku
For waterproof makeup - an oil-based remover is best. But being gentle on your lids is important too. Close your eyes and use fingertips or cotton pads can be used too.  Also a water-based facial cleanser will typically get the job done just fine. Here is my favorite makeup remover
http://www.motivescosmetics.com/product/motives-gentle-eye-makeup-remover/?id=01MEMR&skuName=motives-gentle-eye-makeup-remover-single-bottle-5073-fl-oz150-ml&idType=sku
Feel free to share your favorites products below. Thank you for reading.