Many people asked me how to find RSS feed for Blogger blog, that why i made this post.It is effect way to get more visitors, people can subscribe your rss feed, if they like your blog content. It allows to connect with your content and hey will know about news post in your blog.Finding the RSS feed address in Blogger is not hard task.you may not believe some bloggers want to remove rss feed from their blog, its depend on the author of blogger.I personally found rss feed effective tool.basically these are of two types, first is atom and second in rss.Also we can customize it to our requirement, like we can add full site feed, label, comments or individual post.I am giving you example of all rss feed given below.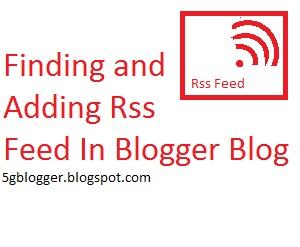 Finding Rss feed url
Full site feed:
RSS 2.0: http://blogname.blogspot.com/feeds/posts/default?alt=rss
Comments-only feed:

RSS 2.0: http://blogname.blogspot.com/feeds/comments/default?alt=rss
specific label site feed
RSS 2.0: http://blogname.blogspot.com/feeds/comments/default?alt=rss/-/labelname
Replace 

blogname.blogspot

with your blog url.If you are using
specific label rss site feed then change label name with your blog label.
Many blogger add rss feed in their blog and find it useful.As i describe  about atom and rss.These are the two different tags used which provide information about website.but you  have full control 
on your blog feed .You can allow your visitors full feed, short or customize.You can also disable showing your blog feed.If you want to change the setting of your blog feed go
Setting > others
There you will see option of site feed, you can change to your requirement.
Let me describe you little about the options of site feed.If you select full then blogger will show your all content of your posts and pages and if you select jump break it show content above jump break.If you select short blogger will show few words, and when you select none it shows nothing
Add  Rss feed widget in blog
login to blogger account and go to your blog
Now move to layout and click on add a gadget
Add the rss feed gadget.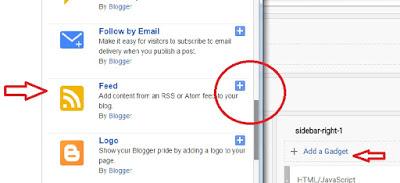 Paste your blog rss feed url Click continue 
Select the options to show number of posts,item dates, item sources, and  open links in a new window.
Now save it and you can change position of gadget by dragging.
click save arrangements at the top right corner.
I hope it helps you a lot.In case of any problem you can ask me, i would love to hear your voice.Also do not forget to share and like with your friends.