Traffic is the basic need of every blogger.Mostly blogger get good organic traffic but they have high bounce rate, due to 
problem in navigation, blog design targeting keywords, interlinks and some other factors.High bounce rate mean low rate of 
clicks on other posts of your blog.It means there is problem in your blog and need your attention and more  effort.First of all 
we  will look at the definition of  bounce rate.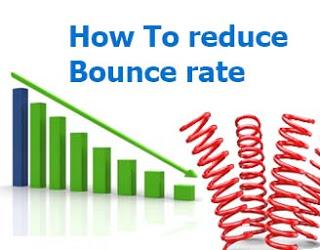 What is bounce rate
Bounce rate is the rate of action by visitors after reading first post on your blog.
If user go to other post of your blog or go to other tags, label and explore more thing in your blog, it means your blog
bounce rate is low and high click rate.
If user leave your blog after reading your post it mean your blog have high bounce rate and low click rate.
How to check bounce rate
To check bounce rate login to google analytics, if you have add your add in analytics.
How reduce bounce rate and increase click rate
Design and loading time
when any user come to your time, look at the design of template and load time.If your blog take too much time to load then 
user can leave your blog without visiting any page of your blog.If we talk about design of template it is also very important.
If you have not good navigation and user not find what they are looking, they will leave your page.Make sure you are using 
right keywords in navigation.Do not add too much script because it increase loading time of blog.
Interlinks and external links
Actually you have to force your visitor to stick to your blog.When you write new post try to add related links in your 
posts.If you are adding external links, make sure external links open in new tab.If external links open in same tab then 
user leave your website and have very low probability
 of coming back to your website.
Fresh content
content is the backbone of any blog.keep your blog up to date and add fresh and interesting articles.while writing new article 
use heading, add attractive images and use simple language.
Final words.
It is recommended to use responsive template and make sure your blog is user friendly.Add recommended content widgets.
Design your blog according to requirement of visitors.Do not use to much external links.Aviod pop up ads.Fix 404 page not
found error.