Ambition to make big, to earn big, to prove big
Individual experience and expertise in a given area
Investment opportunity
Campus driven
Inspiration by a colleague or a friend to join him / her
Trying situation – Job lose owing to any of several reasons
Family tradition
Any abrupt event that lead to self-employment
However, the very first and the most difficult stage in the journey of entrepreneurship is freezing the very business opportunity for the proposed venture.  The opportunity could be related to service sector, product manufacturing or so.  The generally accepted approach and the best practice at this juncture is going for 'market research' on the opportunity, unless the business offering in question is not a job work for some other business.  Considering that the market research recommends the business opportunity, you may go ahead with further positioning in just 2 steps.  Each step, however, is very comprehensive and process oriented.  I have drawn the whole approach into one page document placed below as an image.
Click on the image for a larger view: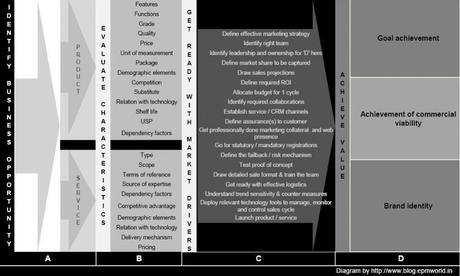 How to freeze a business opportunity
The item 'A' in the picture presents you two opportunity areas i.e. Product and Service.  The next item 'B' contains important parameters to be determined for the product or service offering.  This is the stage where you actually understand what exactly your business is.  This clarity is indispensable in letter and spirit for every further move in your stride.  Considering that you are ready with the plan and process related to item 'B', you will move to item 'C' which tells you the next plan of action to market your product and conduct your business.  The item 'D' is the value what you achieve and the return you gain out of your business investment.
You may also like -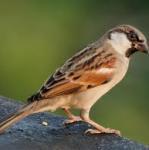 Some of my tweets
I keep posting my thoughts on Twitter .  All the thoughts and expressions are random and impromptu.  I have ...

Opinions
How My Company Hires for Culture First, Skills Second: Yes, indeed. The approach is quite relevant for entry level ...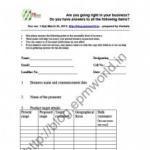 Increase the value of your present business
Small businesses which have attained self sufficiency and have established in their respective business domain generally won't devote their ...

My comments on various topics on HBR Blogs2
(1)  ON - Make Your Competition Irrelevant: Brand preference battles are bad approach in the market. (I) the reason: ...

Service deficiency
There has been a tremendous shift in the business towards customer service.  Usage of technology, logistics, and PR are ...
&keywords;&url;&nr;&nr;