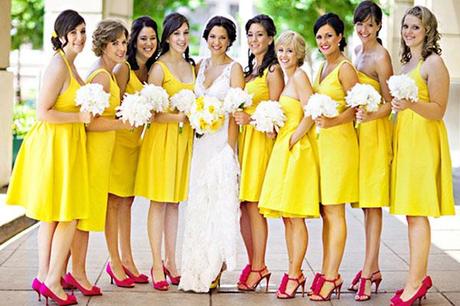 Being a bridesmaid is very exciting part of a wedding. Not only are you adding value to the special occasion but you are also enjoying the importance like the bride.  With so many options available to get the perfect look making the right choice can be a daunting task. It is also difficult for the bridesmaid at the same time. She cannot look prettier than the bride but she also has to look good enough at the same time. The good things about being one are that you attract a lot of attention and have everyone's eyes on you.
Here are some tips that will help you get the best look as a bridesmaid-
Simple but elegant
In a wedding the most dressed person is a bride. As a bridesmaid when you go for a simple and elegant look, it complements the event, the bride and you too. Do not wear a dress that is similar to the bride. Avoid the frills and laces. Instead go for a chic look. A chic look is very much in fashion these days. People have ditched the complicated colors which are bold like gold and silver. Now the in thing is to test pastel colors and ankle length gowns that give a slimmer look.
Choose the right size
Usually bridesmaid dresses are the same to look at for all of them. However it can vary in style and fit because one size doesn't suit and fit all of them.  Choose the right style and the size so that it compliments your figure. The size needs to vary as per the design of the skirt or the frock that you are wearing. Do not go for a full length bridesmaid dress as it is out of fashion. Instead choose an A-line skirt or frock that is knee length or till the calves.
Be trendy
Gone are the days when all the bridesmaids had to wear the same color and material clothes. These days the trend is to wear complimenting and contrasting colors.  Lighter hues and flowery prints are very much in fashion.  Choose a summer color with subtle hues and you will be the star of the show.
Makeup
Wear light makeup without overdoing it. Do not dress too much that you look like the bride. Just wear light make up and style your hair according to your clothes. This can add a lot of value to your look.
Shoes
It goes without saying that you need to wear high heeled shoes. However many people are ditching that idea and are wearing something that suits the dress.  Even trendy flats are very much in fashion and actually it can compliment your entire look.  Taller people will actually look good in flats rather than heels.
Conclusion
Dressing up for an occasion like wedding is important especially when you are the bridesmaid. Make the best of the occasion by using these smart tips to look special. Also never over do your jewelry and always wear something casual. Even a string of pearls can make you look gorgeous.