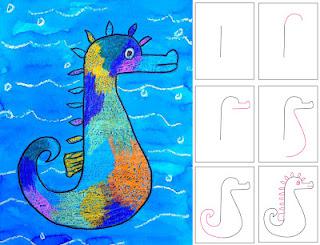 If your students are ever learning about amazing animals, then a book from Eric Carle titled "Mr. Seahorse" is a great lead-in to this project.
1. Students draw a seahorse in pencil as shown in the diagram above.
2. They trace their drawing with a black permanent marker.
3. The seahorse is colored in with crayons, the more colors the better. White crayons may be used to add wave lines in the background.
4. Blue watercolor paint is brushed over the entire paper. I love the Turquoise Blue Liquid watercolor paint from Dick Blick, but I'm sure lots of other shades of blue will look great too.