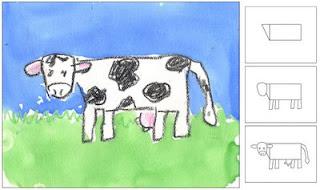 Last spring my school had a special assembly that featured a cow and her calf. I decided to take advantage of the fact that everyone was seeing this really cute animal at the same time, and did a cow lesson for that week's art class.


1. For really young students like kinder and 1st grade, cut cardboard rectangle templates for them to trace. The size can vary according to the size the of the paper, it just should be the proportion of the example shown in the diagram to the right.
2. On watercolor paper (if you can) have the students trace the rectangle in pencil in the middle of the paper. They need to add a triangle to the left, and four legs below.
3. Next they should draw an oval that overlaps the triangle. Because this is the head and it is in front, they need to erase any of the triangle that is in the inside. The head may be finished with a nose, eyes and ears that stick out to the left and right. They also need to draw an udder and tail. At this point I stressed for the students to erase any lines that separate the legs from the body.4. Give each student a black crayon to trace all the of cow. Spots are drawn and colored in. A pink crayon may be used to color in the nose and ears.
5. Distribute green and blue watercolors and brushes. I like to make liquid watercolors by taking the cheap watercolor tablets and dissolve them in water. I helps a lot when painting large areas.