For various reasons, you may find yourself in need of an out-of-state watch repair workshop. Whether you live in a remote area, your local jeweler isn't equipped or authorized to service your watch brand, or you'd like to have your watch repaired for less, you may need to send your watch for out of state repairs. And while the thought of sending a valuable luxury watch through the mail may be disconcerting at first, rest assured that it can (and has been) done.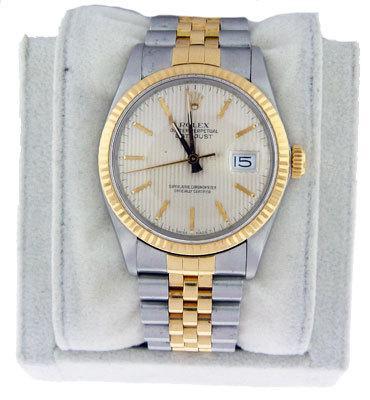 Rolex Gents Two Tone Datejust Tapestry Dial Watch
We perform out of state watch repairs daily, and following these easy steps will ensure your favorite timepiece is serviced and ticking again in no time.
Get quotes from local jewelers. If you live near a jeweler or authorized watch workshop, it's best to check locally first so you can compare prices before sending your watch.
Reach out to an expert jeweler. You should be able to call or email them, or fill out a form on their website. Likely, their watchmakers will first need to see your watch to determine the cost and turnaround time for any repairs. However if you need a simple battery change or routine service, they can give you a quote before you send it in.
Send your watch securely. You can use USPS, FedEx, or UPS to ship your watch, insured for its last appraisal value. You should be given a discreet address, so the shipping label doesn't indicate the package's contents. Enclose any copies of correspondence, you might have had via e-mail, or a note with your name and contact information.
Use your tracking number to confirm with the jeweler that they've received your watch. Typically, they'll contact you first with the official quote and to have you authorize any repairs.
Your watch will be shipped back (securely) to you, fully serviced and repaired!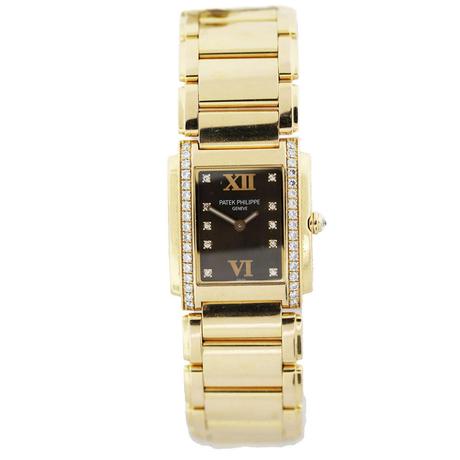 Patek Philippe 24 I8K Rose Gold Ladies Watch
The process is easy, straightforward, and convenient for out-of-state customers, or those who can't make it to the showroom in person. And if you have any questions about our own mail in watch service, you can always give us a call at 1-800-329-4367!