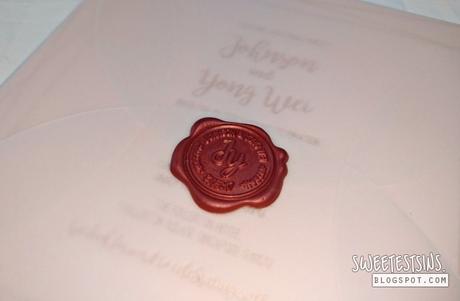 In this modern day and age, some would opt for digital wedding invitations to eliminate the hassle of collecting addresses to mail them out or meeting guests personally to pass the invites.
While hard copy invitations do arguably add to the wedding expenses, it also gives guests a first impression into your wedding style and colours. Thus, you will want to ensure that the color palette style and theme would be cohesive with the entire wedding celebration from the wedding cake to the reception decor.
Not sure where to get started? Don't worry, I have got you covered!
When I first told my husband that I didn't want to use the invitation cards that the hotel provided us with back then when we were planning for our wedding, he couldn't understand why because I was tied up with work and often had to work late and on weekends at times. He wanted me to rest when I wasn't working but I knew I had to create my own wedding invitation. It was my wedding and I wanted something that was uniquely us.
It was helpful that I was familiar with Adobe Illustrator as well as printing terms such as paper types, types of printing etc because it was part of what I do in my day job back then. However, I also spent time doing extensive research during the process of creating my unique wedding invitation. To help you busy couples, I have summarised the following: size of wedding invitation, what to include in your wedding invitation, paper types, envelope types and sizes.
Size of wedding invitation
Typically, there are two sizes for formal wedding invitation cards.
1) Rectangular (W 4.5" X H 6.25")2) Square (W 6.25" X H 6.25")
However, I scaled my wedding invitation card down to (W 5.9" X H 5.9") instead so as to fit my vellum pochette envelopes. Word of advice - if you spot an envelope that you like, work your invitation card size around it. 
Design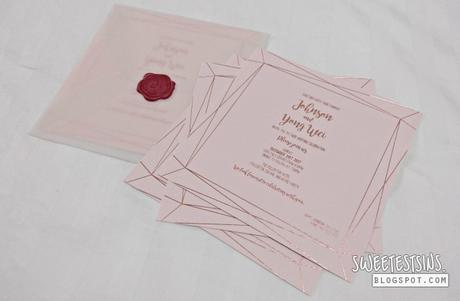 Decide on what you like and experiment with it be it floral, watercolour, chalkboard, marble, geometric etc. I was very keen on having marbled invites initially but looking at how it didn't complement my rose gold foil printing, I chose a blush background and drew geometric lines instead.  
Details to include
1) Groom & Bride Names2) Date3) Time4) Venue5) RSVPIf memory did not fail me, I think I revised the template a total of 3 times just to perfect it. To save you busy couples  time, I have put together a wedding invitation template which you can simply copy and paste and fill in the details in blue for your wedding invitations. 

TOGETHER WITH THEIR FAMILIES
GROOM'S NAME
and
BRIDE'S NAME
INVITE YOU TO THEIR WEDDING CELEBRATION
Please join us
WEDDING DAY
WEDDING DATECOCKTAILS SERVED FROM TIME
DINNER TO FOLLOW AT TIME
WEDDING VENUE
WEDDING VENUE ADDRESS
We look forward to celebrating with you.
RSVP: GROOM'S NAME AND CONTACT NUMBERBRIDE'S NAME AND CONTACT NUMBER
Fonts
It is no doubt that modern calligraphy fonts are perfect for wedding invitations, however before you pick the fanciest looking one, my advice is - choose one that is easy on the eyes so that your guests can read the information easily.
Use a maximum of two different font types on the invitation card. Too many different font types can make your invitation card look messy. If you really need to highlight certain information, try to bold them instead. 
Printing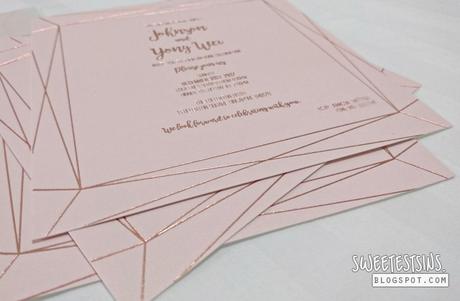 1) Digital printing - similar to the results that you get from using a laser printer at home. 2) Offset printing - similar to digital printing but of higher quality and supports thicker paper types such as textured paper. 3) Foil stamping - metallic print that exudes a luxurious feel. 4) Engraving - letters or graphics are raised. 
I have a penchant for the colour, rose gold and had it included in our wedding color palette. The only way for rose gold to show up on our wedding invitation was via foil stamping. Thus, we went with rose gold foil stamping on a blush background. 
Paper types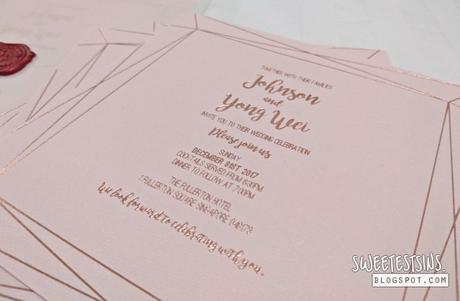 1) Vellum2) Handmade paper3) Recycled paper4) Linen paper
We went with linen paper as it had that cross-hatched textured look. Another paper type that we were really into was vellum paper. It goes very well with black printing!
Envelope types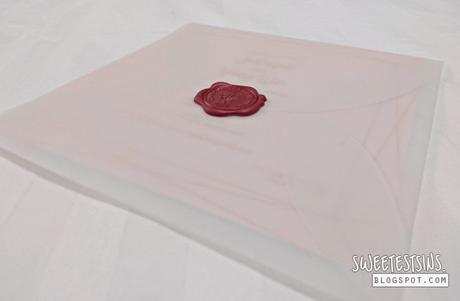 1) Standard envelope2) Pochette envelope
(also known as Petal-fold envelope)

When I first came across vellum pochette envelopes online, I knew it was
THE
 envelope. I showed my husband and we both agree how it gives a slight hint of the card inside and that the frosted material adds that high-end touch. 
Envelope seals and stickers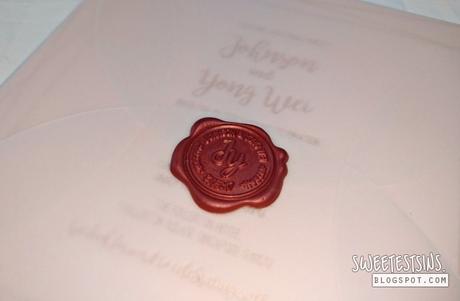 Both the husband and I were intrigued by wax seals when we first saw them, that was way before we had plans to settle down. Thus, we decided to get wax seals for our wedding invitations. Design wise, I used the same fonts which I did for our wedding invitation and created a monogram with our initials and had our names and wedding date with eucalyptus leaves vector forming a circle to represent a union. 
Color-wise, we opted for rose gold wax which is more of a copper red which is more modern-looking than the classic red ones.
Personal touch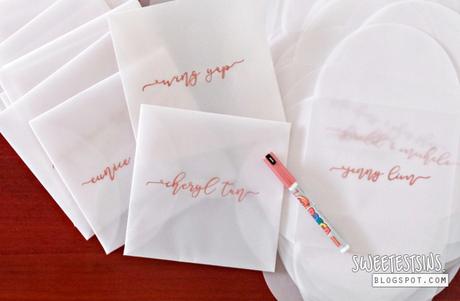 Add a personal touch to your wedding invitations by hand-lettering your wedding invitation envelopes. Here's a tip for those of you whom want to try your hand at hand-lettering, pick a calligraphy font that you like and print out A-Z in both lowercase and uppercase and practice on recycled paper before starting to write on the envelopes!
- - -
I hope you managed to find inspiration for your wedding invitation card and that you will enjoy your wedding planning process. I will be sharing more of my wedding planning so do stay tuned and check back regularly for updates! 
Follow me on Instagram @yongwei318 
--------------------
CONNECT WITH
--------------------
SWEETESTSINS