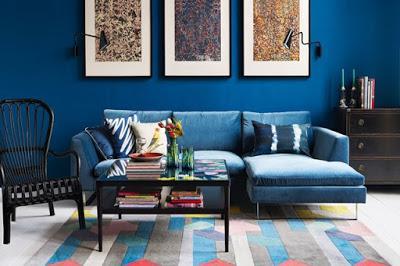 Do you have a living room that is small? Don't worry! There are innumerable ways of giving the room an elegant and sophisticated look. Want to know how? Here's it. 
Coffee table: There is no need to have a big coffee table in front of the sofa. Two African drum tables can be placed instead of that big one. They'll offer better traffic flow than the big one and can easily be moved to wherever they are needed. 
Seating with storage: For opening up the floor space in the room, it is better to opt for seats with hidden storage below. Since it's a small room, it would be great if every furniture has some sort of purpose and has multiple functions. 
Curtains: Curtains that are hung quite above the window offer airiness & height in a small living room. But the curtain design needs to be kept basic with usage of extra fabric for imparting a sense of fullness. The TV can even be mounted on a swing-arm device and that's going to eliminate the need of a big media center. 
Carpet: Lay a carpet that matches with the interior décor of the house. Don't just go to a shop and buy anything for your living room. Also make sure to repair it immediately if you find it has torn anywhere. Look for professionals in Perth who offer carpet patching and invisible mending before it really becomes a big problem for you. 
Dramatic colours: Glossy walls painted in deep colours create a sophisticated backdrop for clean-lined, simple pieces in the room. Moreover, this is going to work wonders if it is a small room, which does not get sufficient light. You can turn a negative into positive & give it the feeling of a dramatic, dark jewel box – however, it shouldn't be very dark. 
Go bold: Don't ever try to restrain yourself. Actually bright, bold and big makes any small space look larger. So, more the statement pieces, better it is. Mix of patterns, vibrant colours and flowers everywhere can make the small living room look bright, vivacious, playful and cheerful. 
Smart lighting: Go for lighting, which can be attached to walls or simply be hung from above. This will save some room on the floor space. 
Float furniture: It would be great if you keep the furniture pieces in the central position and not push them against the walls. Creating space beyond furniture will add volume to any small living room. 
Use mirror: If you have a small living room, which have short windows, there is high chance that you may feel claustrophobic . So, what you can do is boost light, make a focal point as well as add depth by hanging a mirror atop. And if you think you'll be able to place the mirror across from window, even better. The mirror is definitely going to reflect the outside view, creating an impression of extra window. 
Try out these techniques if you have a small living room. You will definite find that the room looks brighter, bigger, more spacious and beautiful. Just make sure the room is kept clean always.