Nowadays, most houses are compact and therefore, require homeowners to use each and every corner of the available area judiciously. Creating storage solutions under the staircase can be an excellent way to meet that requirement. Not only would it provide some place to store various items, but also ensure that the staircase corner is not wasted. Given below are some ideas, have a look: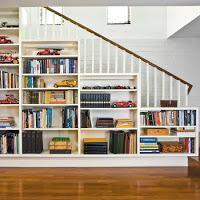 Open Shelving
If you are a voracious reader and need some space to store your precious novels then utilising the area under the staircase is a great idea. All you need is some good furniture makers who can create shelving for you in that unused place. You may even have the area segregated into narrow shelves and retain a thin concealed cabinet behind.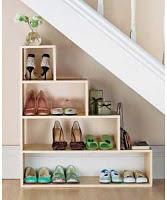 Shoe Rack CabinetYou can use the area available under the stairs as your shoe rack as well. For experts specialising in construction of bespoke furniture in Berkshire, such a project is child's play. Not only would you have a fantastic solution to hide your unsightly shoes, but also be able to store other important items such as tool kits, brooms, mopping brush, etc.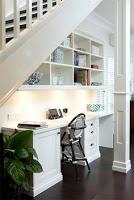 Small Study SpaceIn case you need a place to use as your study area desperately but do not have any spare room available, you can utilise the understairs area instead. Paint the space in white or some other soothing shade, place a small table and also an ergonomic chair. Have spotlights installed strategically above the table as well. Your space-efficient study area would be ready in no time.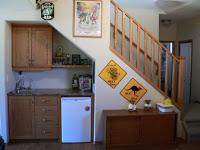 Miniature Utility Room
This space can also be an ideal section of your house to place your washing machine and condenser dryer. The area beneath the staircase can fulfill your requirement. Have voids built into the space as per the dimensions of your appliances and then tuck away your washing machine & dryer inside them. Since a condenser dryer collects moisture inside a removable container, it would not necessitate a vent.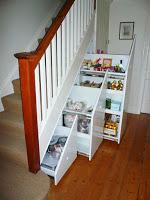 DrawersAn array of drawers can also be a great way to use the area under the staircase. Get in touch with a reputed bespoke furniture maker and ask them to install those drawers. Once the project is complete, you can use the drawers to store anything you like, such as magazines, tools, detergents, spare parts of machines, etc.
Thus, there are so many ways to use the space underneath a staircase – an area we generally tend to overlook.