There's something eternally sensual about the French. Whether it's the décor or their style, they always seem to get it right. So if you want to take that sensuality into the bedroom and decorate in a romantic French style, then take a look at our tips for the perfect bedroom.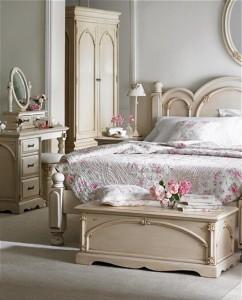 The Colour Palette
Muted greys, layers of whites and blush pinks create a calm, elegant palette for any romantic bedroom. Jewel colours add a pop of colour, but use sparingly unless you want to create a jewel box room.
The Soft Furnishings
This is one of the most important areas for creating a French style. Without it, it just doesn't quite seem right. Create lots of layers on the bed, with sheets and throws and cushions, together creating a decadent feel. Install billowing curtains with airy layers of voile or tulle, allowing lots of light into the room.
Use natural fabrics like rustic linen, cotton and silk to create a tactile experience. Patterns like Toile de Jouy and the Fleur de Lis are traditional French patterns that will work to create an extra French feel.
The Furniture
There are a few different style of furniture that you can go with if you want to create a French feel. For elegant opulence, stick to the antique style. If it wouldn't go in the Palace of Versailles, then it shouldn't go in your bedroom. If you're looking for simplicity, then go for clean lines.
Your bed should be the main attraction, so make sure you invest in the best bed that you can buy. Consider a four poster bed for the ultimate in decadent sleeping, but if your budget doesn't quite stretch that far, you can make your own canopy for very little money (though it might cost you slightly more in effort!).
The rest of your furniture should complement your bed, but doesn't have to be quite so extravagant. Take a look at the Trade Furniture Company for some cheap but beautiful pieces that could work in any number of different French bedroom styles.
The Final Details
The finer details are what make all the difference. No French bedroom is complete without a chandelier and a huge mirror. If you're cringing at the thought of forking out for a chandelier or a mirror, don't worry, there are lots of shortcuts to the look without the price tag.