A good pair of walking shoes is like an old friend: reliable, comfortable, and supportive. If it's your first time picking out a pair of walking shoes of your own, you'll undoubtedly have questions. We just want to make sure they're the right questions. Because having answers to the right questions will make it exponentially easier to find walking shoes that fit your needs and preferences. So, a few things you should ask yourself: what are the important parts of a walking shoe? What makes a good sole? What is my foot type? And last but not least, how should walking shoes fit? In our guide on how to choose walking shoes, we'll cover all of these topics so you can find the perfect pair of shoes for you.
How to Choose Walking Shoes Infographic

How to Choose Walking Shoes: In-Depth
Step 1: Discover the Anatomy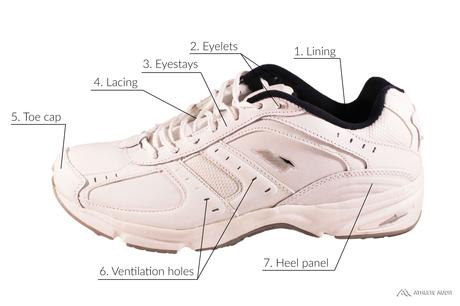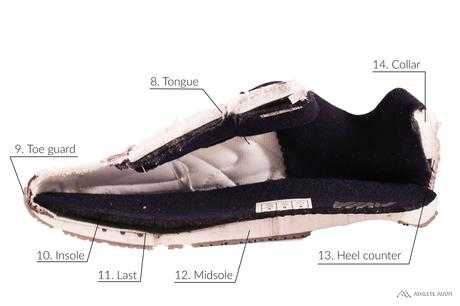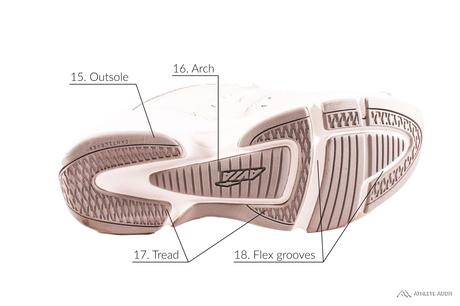 Lining – The soft fabric located inside of the shoe. Improves overall comfort
Eyelets – Small holes on either side of the tongue that guides the shoelaces in place
Eyestays – The strips of fabric that houses the eyelets and laces
Lacing – Most walking shoes will use either traditional laces or velcro straps
Toe cap – The end of the shoe. Often reinforced for added durability
Ventilation holes – Helps to make the shoe more breathable and eliminate moisture
Heel panel – Fabric that covers the heel portion of the shoe
Tongue – A well-padded tongue helps to improve comfort and overall fit
Toe guard – A rubber toe guard that rises above the outsole helps to increase durability and makes walking easier
Insole – The footbed on which the feet rest on. Provides comfort and orthotic support
Last – Sits below the insole, the last is what the rest of the shoe is built around. Determines the shape of the shoe as well
Midsole – The abundant cushioning found in-between the insole and outsole. Often foam-based and thicker in the heel
Heel counter – The rigid–often plastic–insert in the back of the heel that helps provide structural support for the heel
Collar – A well-padded collar helps to improve comfort and ankle support
Outsole – The bottom of the walking shoe that provides traction
Arch – The middle area of the shoe. Often has arch support for more comfortable walking
Tread – A herringbone tread pattern helps provide superior traction on a variety of surfaces
Flex grooves – Improves the flexibility of the shoe for full range of motion
Step 2: Know Your Sole
So you've got a pretty clear idea of what's on the top of the shoe now. But what about the sole? When learning how to choose walking shoes, a good sole is the sign of a good shoe meant for strolling about. But what exactly constitutes a good sole though? Let's find out.
First off, make sure they are comfortable around the arches. Any discomfort will only be amplified the longer and further you walk. A walking shoe's sole is also a lot flatter and wider than a running shoe. This is to provide stability, as the biomechanics required for walking is a lot different than those of running. Next, you'll want to make sure there are ample amounts of flex grooves, which will allow for smooth, natural walking motion. It should also be made of durable, non-marking rubber with effective tread for traction.
All in all, you should always feel solid and secure while wearing a pair of walking shoes.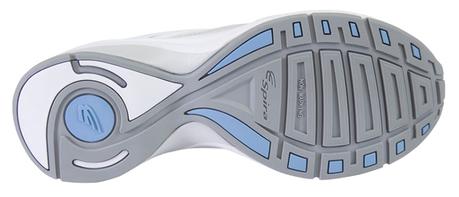 Step 3: Consider Your Foot Type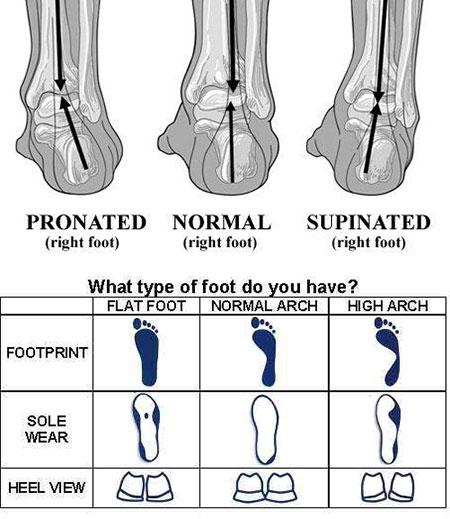 Everyone's feet fit into one of three categories:
pronated
,
neutral
, or
supinated
. Basically what this means is that the way your feet are aligned determines your
feet placement
, which is crucial to know whether you're standing, walking, or running for that matter. When learning how to choose walking shoes, you'll want to figure out your foot type so you can know how much cushioning, lateral support, and arch support your shoes should have.
To find your foot type, start by looking at any shoes you use for walking and find where they've worn down the most. Shoes with a lot of wear on the inside of the soles or around the ball of your foot means you have a foot that regularly overpronates. If the outside of the heel or toes show wear, you have a supinated foot. Lastly, if there are even amounts of wear throughout your shoe, then your foot type is neutral, which is ideal.
However, if you want a more accurate measurement, you can always perform a wet test. Simply wet the bottom of your foot with water and place it on a visible surface such as a brown paper bag or concrete. Now, check the imprint and see what it matches on the chart. If your arch is very thin, your feet are supinated. If the arch is as large as the rest of your foot, your feet overpronate. And if your arch is not too thin or large, then your feet are neutral.
Know Your Foot Type
Neutral -A neutral arch is the ideal foot type, and allows you to wear almost any shoe you want, given that it's comfortable for you. Therefore, comfort should be your biggest priority if you have neutral feet, although neutral cushioned shoes help to promote natural foot motion.
Supinated – Having a high arch means your ankles are naturally inclined outwards. This means that there isn't a lot of inward stability so you'll want to focus on cushioning and flexibility in a pair of walking shoes. Neutral cushioned shoes work well with this type of foot.
Pronated (Overpronation) – A pronated foot means a low arch, and that means your ankles have the tendency to roll inwards, or overpronate. This can lead to injury more often than the other foot types, so you'll want walking shoes that have lots of stability and lateral support. Motion control shoes are also a good choice for those who severely overpronate. You should also consider adding your own insoles or orthotics for the support you need around your arches.
Step 4: Find the Right Fit
Signs of a Perfect Fit
Around 1/2″ of space in the toe with a snug fitting forefoot and heel that doesn't slip
Fits the width and volume of your foot. Note that width and volume do not mean the same thing
There should be absolutely no pain, discomfort, or chafing of the foot
There should be adequate flexibility and cushioning for your feet
Even pressure and comfort on the arches when standing on the ball of your foot
Toes should not be able to touch the front of the shoes while running
Tips For Fitting Running Shoes
Try walking in a pair of shoes to ensure that they are comfortable no matter what
Wear socks you intend to use walking while fitting shoes for an accurate fit
Consider adding your own insoles or orthotics for more comfort or a better fit
Try shoes on in-store and in the afternoon, as feet tend to swell throughout the day
Learn lacing techniques if you'd like to get a snugger fit in the midfoot or heel area
Try multiple sizes of the same shoe to find the most comfortable pair for you